Board of Visitors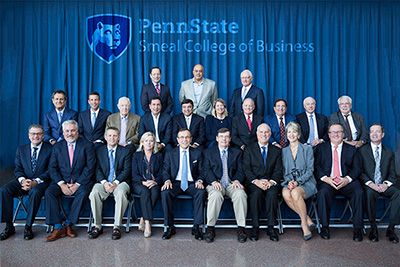 The Penn State Smeal College of Business Board of Visitors serves as a corporate board of advisors, focusing especially on providing counsel and stimulating advances in areas of strategic importance to Smeal and to Penn State.
The Smeal College Board of Visitors was formed in 1989 with 10 founding members. Now the board features nearly 40 members, covering an array of businesses and industries. The board meets once every semester to provide recommendations on new initiatives and offer feedback on matters related to the college. In addition to acting as ambassadors of Smeal, members engage with the college community through mentorship, philanthropy, and recruitment.

Members of the Board
Lou Grabowsky, Chair, Smeal College Board of Visitors
Partner, Juniper Capital Management, L.L.C.
Julie McHugh, Vice Chair, Smeal College Board of Visitors
Biopharmaceutical Industry Executive (Retired)
Ed Anchel
Managing Partner, Eminent Capital Partners LLC
John M. Arnold
Chief Executive Officer, PPC Lubricants
Richard H. Bard
President and Chief Executive Officer, Bard Capital Group, LLC
Carl Berquist
Executive Vice President and Chief Financial Officer, Marriott International, Inc. (Retired)
Tom Buday
Senior Vice President, Head of Marketing and Consumer Communication, Nestlé S.A.
Anthony Buzzelli
Vice Chairman and National Managing Partner (Retired), U.S. Regions, Deloitte & Touche USA, LLP
Alvin H. Clemens
Advisor, Homestead Smart Health Plans
Trustee Emeritus, Penn State Board of Trustees
Peter Cocoziello
President and Chief Executive Officer, Advance Realty
Mitchell D. Cohen
Vice Chairman, PricewaterhouseCoopers
Troy H. Cromwell
President, Centennial Technologies Inc.
Bryon Deysher
President and Chief Executive Officer, Methods Machine Tools Inc.
Kim Dixon
Executive Vice President and Chief Operating Officer, FedEx Office and Print Services, Inc.
Alex Goldberg
President (Retired), Ford Motor Land Development Corp.

Jon Grosso
Executive Vice President and Director of Stores, Kohl's Department Stores
Alan R. Guttman
Chief Executive Officer, Guttman Energy, Inc.
Edward R. Hintz
President, Hintz Capital Management
A. Richard Janiak
Managing Director, Citigroup, Inc.
Martha Barnhart Jordan
Partner (retired), Corporate Department, Latham & Watkins LLP
Jeffery L. Leininger
Vice Chairman (retired), Mellon Financial Corporation
David M. Marcinek
Partner, Goldman Sachs & Co.
Ron Morgan
Chairman and Co-founder, MorganFranklin Consulting
David Polansky
Founder and President, D3 Partners, LLC
Robert Poole
President and Chief Executive Officer, S & A Homes, Inc.
Karen Quintos
Senior Vice President and Chief Marketing Officer, Dell
Stephen Reeves
Executive Vice President and Chief Financial Officer, Enviva Holdings
J. David Rogers
Chief Executive Officer, J.D. Capital Management LLC
Matt Schuyler
Chief Human Resources Officer, Hilton Worldwide
Mark S. Schweiker
Senior Vice President and Corporate Development Officer, Renmatix

Philip Sieg
Head, Ultra High Net Worth Client Segment & Solutions, Merrill Lynch
Salomon "Sal" Sredni
Chief Executive Officer (Former), TradeStation Group, Inc.
John Strackhouse
Partner, Caldwell Partners
George Strickler
Executive Vice President and Chief Financial Officer, Stoneridge, Inc.
Richard K. Struthers
President, Ashford Point Enterprises
Lara Warner
Chief Compliance and Regulatory Affairs Officer, Credit Suisse Group
Linda Wolf
Chairman and Chief Executive Officer (retired), Leo Burnett Worldwide, Inc.
Lizabeth H. Zlatkus
Board Director, Legal & General Group, Plc