Alan R. Guttman
Biography of Alan Guttman.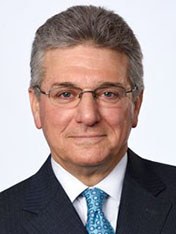 Chief Executive Officer, Guttman Energy, Inc.
Board Member, Penn State Smeal College of Business Board of Visitors
Alan Guttman is the Chief Executive Officer of Guttman Energy, Inc. headquartered in Belle Vernon, PA.  Guttman Energy, founded in 1931, is a leading fuels marketer and fuel management solutions provider, serving the commercial, wholesale and retail markets in 16 states.  Alan started his career with Guttman Energy in 1972.
Guttman Energy is one of a group of family-owned companies known as The Guttman Group. The Guttman Group consists of Guttman Energy, Source One Transportation, LLC, and Guttman Realty Company.
In addition to his business experience, Alan has served as a director for a number of businesses and community organizations.
Mr. Guttman is the past Chairman of the Jewish Healthcare Foundation and presently serves on its Board of Directors.  In addition to his family-owned companies' boards, Mr. Guttman also serves on the Board of Directors of Giant Eagle, Inc.
Mr. Guttman's civic involvement reflects his and the Guttman Group's commitment to advance and invest in the many communities that the companies serve.  He has been a member of numerous corporate, civic and philanthropic boards, including Monongahela Valley Hospital, Inc., Mon-Vale Health Resources, Inc., UPMC, Pittsburgh Regional Health Initiative, Gateway Bank of PA, The Hite Company, and New Enterprise Stone & Lime, Inc.
Alan received his Bachelor of Science Degree in Finance from Penn State University in 1969, and his Juris Doctor Degree from George Washington University Law School in 1972.