George E. Strickler
Biography of George E. Strickler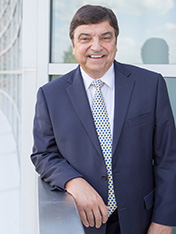 Executive Vice President and CFO (retired), Stoneridge, Inc.
Board Member, Penn State Smeal College of Business Board of Visitors

George Strickler '69 served as the Executive Vice President of Strategic Growth from September 2016 until his retirement in April 2018.  He formerly was the Executive Vice President and Chief Financial Officer since joining the Stoneridge, Inc. in January 2006. Stoneridge is recognized as a leading independent designer and manufacturer of highly engineered electrical and electronics components, modules and systems principally for the automotive, medium and heavy-duty truck, agricultural and off-highway vehicle markets. Mr. Strickler retired from Stoneridge, Inc. April 30, 2018.
Mr. Strickler was the Executive Vice President and Chief Financial Officer with Republic Engineered Products, Inc., North America's leading supplier of special bar quality steel, a highly engineered product used in axles, drive shafts, suspension rods and other critical components of automobiles, off-highway vehicles and industrial equipment. Prior to Republic, Strickler was BorgWarner Inc.'s Executive Vice President and Chief Financial Officer for nearly three years. BorgWarner is a technology-driven manufacturer of power train components and integrated systems for major manufacturers worldwide. In addition, Strickler was employed at Akron-based Goodyear Tire & Rubber Co. for 30 years holding finance and treasury positions culminating as Vice President of Finance. 
Mr. Strickler served on the Board of Directors for Technical Consumer Products from June 2014 to April 2018.  He was elected in February 2017 by the Board of Directors as Chairman of the Board and served in that position until TCP was sold in April 2018. He previously served as Chairman of the Governance & Nominating committee, Chairman of the Audit Committee, Vice Chairman of the Board as an Independent Director and a member of the Compensation committee. TCP is a leading producer of energy efficient light bulbs to the global structures light bulb market with five manufacturing facilities in China and distribution in North America, Europe, Asia and Brazil.  In addition, Mr. Strickler currently serves on the Summa Health Board of Directors since May 2018 and previously served on the Foundation Board from June 2012 – May 2018.  Mr. Strickler was appointed as Chairman of the Board for Summa Health Systems on January 1, 2021. Summa Health Systems is an Integrated Healthcare Delivery System that provides coordinated, value-based care across the continuum for the people and populations they serve.
He is a Certified Public Accountant and received a Bachelor of Science degree in accounting from Penn State University in 1969 and an MBA in finance from the University of Akron in 1974.  He is a non-practicing CPA in the State of Ohio.