Salomon "Salo" Sredni
Biography of Salomon Sredni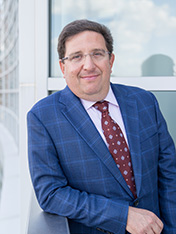 Chief Executive Officer and Board Member
Board Member, Penn State Smeal College of Business Board of Visitors
Salomon Sredni '87 is an accomplished Chief Executive Officer and Board Member with a solid track record of growth, profitability and customer satisfaction. Results driven and collaborative, Mr. Sredni's distinguished career encompasses tenures in Technology, Healthcare and Financial Services industries across domestic and international markets, and private and publically traded companies.
In 2017, Mr. Sredni co-founded and joined Ocean Azul Partners, as a Partner and Managing Director, and Chronwell, Inc. as a Co-founder and President. Ocean Azul partners is a venture capital firm that invests in startups and early stage companies across various industries including, but not limited to, emerging technologies and professional services. Chronwell, Inc. is a startup focused on disrupting the way workers compensation is delivered by putting the worker first and combining technology with innovative processes to reduce the cost of workers compensation, while increasing the satisfaction of and improving the outcomes for injured workers.
Prior to that, Mr. Sredni served as Board Member, Chairman, President & CEO of the TradeStation Group, one of the largest online brokers in the US, and was instrumental in the acquisition of the TradeStation Group by Monex Group in 2011. TradeStation won many accolades, had the highest Net Promoter Score amongst its peers and was widely recognized as a leader in the industry.  Following the acquisition, Mr. Sredni held concurrent positions as Board Member, Managing Director and COO of the MONEX Group, a publically traded, diversified, financial services organization with global operations.
Mr. Sredni was recognized by the South Florida business Journal as one of Broward's ultimate CEO's in 2012 and by Ernst and Young as entrepreneur of the year for Florida in 2005.
He earned his Bachelor of Science Degree in accounting from The Pennsylvania State University, has taken masters level courses at the University of Miami in order to qualify for his CPA in Florida and attends yearly the Harvard Business School YPO Presidents Seminar (5-year participant; Group Leader).
In his free time, he gives back to the community and is a board member of the Orange Bowl Committee and a trustee for the Jewish Community Foundation of Broward County.  He is a world traveler and has visited all continents except Antarctica and over 75 different countries.