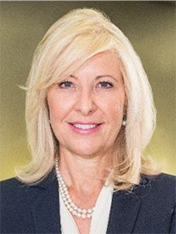 Risk & Controls Executive
Board Member, Penn State Smeal College of Business Board of Visitors
Lara Warner '88 is a versatile executive with experience across corporate and financial services firms in roles spanning finance, business leadership, technology, risk, and controls. She has a career history of partnering with CEOs and presidents to develop growth strategies and ensure optimal investments while maintaining focus on revenue expansion, operational enhancement, and enterprise-wide fiscal health. Recognized for high integrity and impactful leadership in purpose-driven global environments, Lara guides diverse teams through challenging scenarios while gaining buy-in, fostering comradery, and generating high performance.
Lara navigated a nearly 20-year career with Credit Suisse, where she was an Executive Board member for six years. She most recently served as Group Chief Risk & Compliance Officer, first overseeing global risk management and then leading the newly combined Risk & Compliance function.
Prior, as Chief Compliance and Regulatory Affairs Officer, Lara led the separation of Compliance from Legal and successfully launched a new 2,000+ employee organization.
A trusted advisor and thought leader, Lara contributes expertise and leadership as a member of various nonprofit boards, including the Women's Leadership Board and Dean's Executive Committee at Harvard University's John F. Kennedy School of Government; the Aspen Institute's Business and Society and Communication and Society Programs; and The Pennsylvania State University's Smeal College of Business Board of Directors.
Lara holds a Bachelor's Degree in Finance, with an emphasis on Securities and Portfolio Management, from The Pennsylvania State University.