Julie McHugh
Biography for Julie McHugh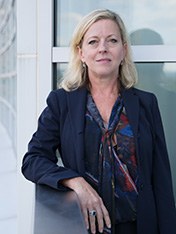 Past Chief Operating Officer, Endo Pharmaceuticals
Board Member, Penn State Smeal College of Business Board of Visitors

Julie McHugh '86 is a 32-year veteran of the biopharmaceutical industry.  Most recently, she was the Chief Operating Officer at Endo Health Solutions where she was responsible for the pharmaceutical and generic drug businesses.  Previously, Julie held executive positions including CEO of Nora Therapeutics, Company Group Chairman at Johnson & Johnson, and President of Centocor.  During her career, Julie led the development and commercialization of break-through products for the treatment of cardiovascular, respiratory, gastrointestinal, autoimmune, and infectious diseases.
Julie has led organizations ranging from small start-ups to large, complex multinational companies.  Her leadership roles have included multi-billion dollar businesses with several thousand employees. Her background includes experience in general management, strategic planning, R&D, mergers and acquisitions, and organizational design.  As an operational leader, she has implemented numerous initiatives to improve effectiveness and efficiency. 
Julie currently serves on the Board of Directors for Xellia Pharmaceuticals, Ironwood Pharmaceuticals, Trevena Pharmaceuticals, Epirus biopharmaceuticals, and Aerie Pharmaceuticals.  In addition, Julie has participated on several trade association and non-profit boards.