Administration
The administrative team of the Penn State Smeal College of Business oversees all aspects of one of the nation's largest business schools.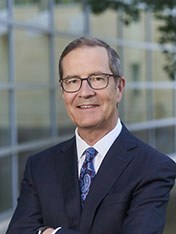 Charles H. Whiteman, Dean
Charles H. Whiteman, who has more than 32 years of experience in higher education and business, assumed the leadership position at the Penn State Smeal College of Business in 2012. He oversees all aspects of one of the largest business schools in the nation. Prior to joining Penn State, he was senior associate dean for the Tippie College of Business at the University of Iowa.
Whiteman holds a Ph.D. in economics from the University of Minnesota and a bachelor's degree in economics from the University of Kansas. He has conducted research that has been supported by a number of grants from the National Science Foundation, published dozens of academic papers, written two books, and served as associate editor of several economics journals. He has also advised the state of Iowa's Department of Management on economic issues and served as a visiting scholar at the Federal Reserve Banks of Kansas City, Atlanta, Cleveland, and Minneapolis.
Senior Associate Dean for Research and Faculty
Steven Huddart, senior associate dean for research and faculty, is responsible for the general academic and research strategies of the college as well as strategies associated with international collaborative relationships. He oversees the Ph.D. Program, research funding and budgets, faculty development, all academic departments and research centers, and the office of international business.
Associate Dean for Professional Graduate Programs
Brian Cameron, associate dean for professional graduate programs, is responsible for leading the design and implementation of a new portfolio of online and resident professional master's programs and graduate certificates. He oversees all professional graduate programs within the Smeal College, including the Penn State Smeal MBA Program, the Smeal Executive MBA Program, a portfolio of one-year residential master's programs and online master's and graduate certificates. 
Associate Dean for Undergraduate Education
Felisa Del Carmen Higgins, associate dean for undergraduate education, oversees all undergraduate programs in the college, which spans majors and minors in six academic departments.
Associate Dean for International Programs
Jeff Sharp, associate dean for international programs, oversees global opportunities to internationalize the education for Smeal students. This encompasses managing existing and creating new international business courses, study abroad programs, international internships, and other occasions to internationalize the curriculum.
Assistant Dean for Diversity Enhancement Programs
Jamie Campbell, assistant dean for diversity enhancement programs, oversees educational support, professional development, and networking programs available to students of all levels in support of diversity enhancement in the college.
Assistant Dean for Administration
Rebecca Cianci, assistant dean for administration, oversees the college's reaccreditation and strategic planning processes and institutional research efforts.  She also leads the Research Instruction & Information Technology Group (RIIT), the e-Learning Design Innovation Group (eLDIG), and the Constituent Relationship Management Group (CRM). 
Chief Marketing Officer and Assistant Dean for Strategic Communications
Rick Ayers, chief marketing officer and assistant dean for strategic communications, leads the development and execution of comprehensive brand, marketing, and communication strategies, working closely with the Dean and other members of the senior administration to position the college as a national leader in business education.