Jerome Griffith
Biography of Jerome Griffith.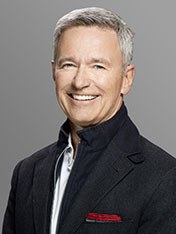 Executive Vice Chairman, Board member, Lands' End, Inc.
Board member, Penn State Smeal College of Business Board of Visitors
Jerome Griffith '79 is the Executive Vice Chairman and a member of the board of directors of Lands' End, Inc.
In this role, he is committed to leveraging Lands' End's rich heritage to drive growth and profit opportunities for all aspects of the global brand while remaining true to the brand's core values and customer base.
Griffith brings nearly 40 years of retail and apparel experience to Lands' End. He embodies a value system aligned with Lands' End's core principles of quality, value and customer service and is committed to building sustainable long-term growth.
Prior to joining Lands' End, he most recently served as chief executive officer, president and director of Tumi Holdings, Inc., a company which was listed on the New York Stock Exchange, from April 2009 until its sale in August 2016 to Samsonite International S.A., where he now serves as a non-executive director. Recently he served as chairman of the supervisory board of Tom Tailor Holding AG and is currently a board director of Vince Holding Corp. A dedicated supporter of the education of future fashion and design executives, Griffith served on the board of Parsons School of Design from September 2013 to September 2020.
From 2002 to February 2009, he was employed at Esprit Holdings Limited, a global fashion brand, where he was promoted to chief operating officer and board member in 2004, and later promoted to president of Esprit North and South America. Prior to his work with Esprit, Griffith worked as executive vice president at apparel and retail company Tommy Hilfiger, president of retail at catalog-based apparel and retail company J. Peterman Company, and held various positions of increasing responsibility at Gap, Inc. from 1989-1998.
Griffith received his Bachelor of Science in Marketing from the Pennsylvania State University in 1979.