Henry L. Ines
Biography of Henry L. Ines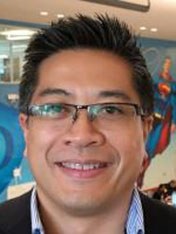 CEO and Founder, Chainparency
Board Member, Penn State Smeal College of Business Board of Visitors
Henry L. Ines '98 has 20+ years of professional experiences as a global executive, former VC, advisor, and entrepreneur. He is currently the CEO and founder of Chainparency, a blockchain technology company and developer of the GoTrace system. Mr. Ines also serves on the Steering Committee of the GoChain Foundation.  He is also the co-founder of multiple GoChain blockchain-based initiatives to include the Zeromint NFT Marketplace, which empowers artists and creators to responsibly mint, auction, and sell non-fungible tokens (NFTs).
Previously, Mr. Ines served as CEO of Shivom Ventures (now HLTH), a biotech startup and developer of an innovative clinical SaaS analytics platform and genomics datahub powered by blockchain. Mr. Ines began his career as a management consultant (ex-Price Waterhouse & -PwC) and corporate finance, M&A advisor (ex-PwCS and -M&T Bank) before spending more than a decade in Silicon Valley and Asia as an advisor and VC for DragonVenture, DFJ Dragon, and DraperDragon Funds.
Mr. Ines is also the co-founder of GENERATION, a leading Esports and video games boutique consultancy, which provides clients with a broad range of advisory services ranging from the executive management of gaming & EDM events to the development of gaming-related digital assets. He also serves as an advisor to Cappasity, developer of a proprietary scanning software, which enables the rapid production, embedding, and analysis of 3D content in mixed environments. He is also a member of the Global Advisory Panel for the Institute for Decentralized Crypto Asset Professionals (IDCAP). Mr. Ines is a frequent speaker on technology and enterprise blockchain solutions and routinely lectures at Nanyang Technological University (NTU) in Singapore. He is passionate about working with visionary leaders & entrepreneurs and leveraging innovative technologies for impact and addressing some of the world's greatest challenges. Mr. Ines holds an M.B.A. from Duke University Fuqua School of Business and a Bachelor of Science in Finance from the Pennsylvania State University Smeal College of Business.