Abdul Farid Alias
Biography for Abdul Farid Alias.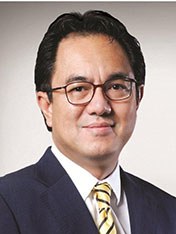 Former Group President and Chief Executive Officer
Board member, Penn State Smeal College of Business Board of Visitors
Datuk Abdul Farid Alias '90 was the Group President and Chief Executive Officer of Maybank for a period of over 8 years from August 2013 until April 2022. Maybank is the largest financial services group in Malaysia, and one of the biggest banking group in South East Asia. Maybank operates in Malaysia, Singapore and Indonesia as its primary home markets. In addition to that Maybank also operates in all seven other countries in South East Asia, as well as Greater China, Dubai and the financial centres in London and New York. Maybank is a universal bank that provides retail banking, corporate and commercial banking, investment banking and insurance services. Through its subsidiary, Maybank Islamic, it is also one of the biggest Islamic bank in the world. Maybank currently employs slightly over 42,000 employees, has a balance sheet of over USD200 billion.
When he was with Maybank, he was also the Chairman of the Association of Banks in Malaysia, and the Vice Chairman of the Asian Institute of Chartered Bankers and a Co-Chair of the Emerging Markets Advisory Council of the Institute of International Finance based in Washington DC.
Farid graduated with a Masters in Business Administration (Finance) degree from the University of Denver, in Denver, Colorado in 1991. Prior to that, he graduated from the Pennsylvania State University, University Park in 1990 with a Bachelor of Science degree in Accounting. In 2013 he attended and completed the two-month Advanced Management Program at Harvard Business School.