Emphasis in Management and Organization
Details about the Penn State Smeal Ph.D. Emphasis in Management and Organization.
Program Overview
The Management & Organization Ph.D. program aims to develop scholars who will contribute to the advancement of knowledge through leading edge research that changes the way people think about organizations and the way they are managed. With world-renowned faculty, the program is uniquely positioned to prepare you to conduct research that advances knowledge about a wide array of management issues. Collegial relationships and the opportunity to work on coauthored research that is published in the very best management journals are hallmarks of the program.
PENN STATE SMEAL VOICES
"I enjoyed being able to learn from faculty members in classes and through research collaborations. How else can one begin to learn the business of academia but by rolling up their sleeves and doing it? I think the faculty truly believe that and it has been fun and (appropriately) challenging to learn from them. Then, being able to do that in a collegial and supportive environment has been icing on the cake. I'm very grateful."
- Tiffany Johnson, 2016 Smeal Ph.D. Graduate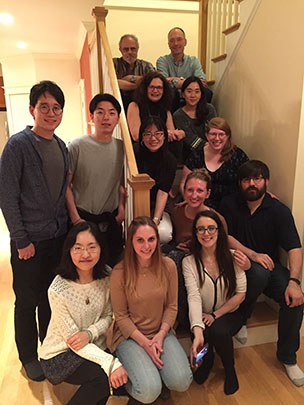 Coursework
You will begin by being exposed to a wide range of management literature, research methods, and faculty interactions. Every student takes seminars in Organizational Behavior, Organizational Theory, Strategic Management, Quantitative and Qualitative Research Methods, Statistics, Advanced Analytical Skills and a colloquium that prepares you for academic life. After the first year, you will take a candidacy exam that covers the content of the first year core seminars. You can then specialize by taking elective seminars in the department as well as courses in a supporting field, within or outside the college.
Areas of Study
The program focuses on the following areas of study:
Strategic Management
Organizational Behavior
Organization Theory
International Business
Innovation and Technology
Entrepreneurship
About the Management and Organization Department
The Smeal Management and Organization Department is focused on shaping management knowledge and practice for the twenty-first century. With teaching and research centered on providing leaders and managers with the knowledge and skills to tackle today's business challenges, our faculty are at the leading edge of research and practices that address development of new organizational design as well as firms' strategies and management processes, including new methods of performance management, talent management, entrepreneurship, and ethical leadership. The department ranks in the top 10 for research productivity worldwide, and Smeal management faculty members are current and former Associate Editors at the Academy of Management Journal and Academy of Management Review, the two highest impact journals in the management field and Administrative Science Quarterly.
Learn more about the PhD students in the Smeal Management and Organization Department.
PENN STATE SMEAL VOICES
"No matter what aspect of organizations you're interested in studying, or how you're interested in studying them, there's going to be someone in the Management and Organization Department with expertise and valuable insights. I really don't know of any other management department that prepares students so thoroughly for the breadth of theoretical and methodological approaches that we see in our field."
- Craig Crossland, 2007 Smeal Ph.D. Graduate
For more information on the Smeal Ph.D. Emphasis in Management and Organization, contact:
Stephen Humphrey
Smeal College of Business
The Pennsylvania State University
439 Business Building
University Park, PA  16802
Phone:  814-863-0597
Email: seh25@psu.edu