Emphasis in Supply Chain and Information Systems
Details about the Penn State Smeal Ph.D. Emphasis in Supply Chain and Information Systems.
Program Overview
The Supply Chain and Information Systems Ph.D. Program spans the boundary of two primary fields: supply chain and information technologies. From an interdisciplinary perspective, the diversity of processes within supply chain and information systems provides abundant opportunities for the application of a broad array of rigorous research methods to a diverse set of interesting and relevant research topics.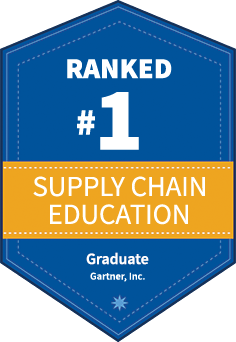 Coursework
The diverse research interests from our faculty provides our Ph.D. students the opportunities to choose one or more of the three main research tracks: analytical modeling, empirical study, and experimental research. We do not offer one-fit-all study plans. Rather, with guidelines provided by our program, all our students take required and elective supporting courses to build their methodological foundations and accommodate their own research needs/interests. In addition, most of our students take courses across different tracks to enrich their tool boxes. Besides the courses that are offered in Smeal college of Business, one of the advantages of being part of a big research campus is that based on the students' research needs and interests, they can take advantage of the vast variety of courses offered by the many Penn State programs across campus. These include Industrial Engineering, Economics, Statistics, Health policy, Ag Econ, and Information Science and Technology, just to name a few. Examples of the courses taken by students include optimization, supply chain models, econometrics, empirical methods, game theory, statistical research, marketing research methods, stochastic processes, service operations, data analysis, information systems, as well as many research topics courses.
Areas of Study
The interdisciplinary program encompasses theoretical and empirical research methods and many vital areas of study such as:
Manufacturing and Services Operations Management
Design of Supply Chain Networks
Big Data and Supply Chain Analytics
Inventory Management
Reverse Logistics/Closed-Loop Supply Chains
Business Process Management
Behavioral Operations Management
Healthcare and Pharmaceutical Supply Chains
Mobile commerce, E-commence, and Healthcare IT
Information Systems and Technology
Distribution and Logistics
About the Supply Chain and Information Systems Department
Discover a doctoral business program driven by academic excellence and defined by collaboration. At the internationally ranked Penn State Smeal College of Business, we boast of close connections among doctoral candidates and their faculty mentors. Leverage the resources of a major research university and the expertise of some of the top academic minds in the supply chain and information systems field to expand your knowledge base and hone your research abilities.
The research of our faculty combines academic rigor and practical relevance to advance the frontiers of knowledge. Smeal faculty rank in the top 20 for research productivity worldwide and No. 4 among public business schools (UTD research database, 2012-2015).
The Supply Chain and Information Systems Ph.D. Program spans the boundary of two primary fields: supply chain and information systems.
Point of Distinction
Supply chain faculty at Smeal are nationally and internationally recognized scholars, holding editorships, associate editorships, and editorial board memberships on more than twenty prominent refereed journals.
The supply chain and information systems dept. has 22 tenure-track faculty with diverse research interests. Students can choose analytical, empirical, and/or experimental routes.
The Center for Supply Chain Research (CSCR), founded in 1989, works as a bridge between academics and industry. The center currently has 55 corporate sponsors (such as IBM, Boeing, Johnson & Johnson, Walmart) and holds leaders' forum and corporate sponsors' conferences twice a year where industry leaders and faculty come together to discuss current issues and exchange ideas.
Recent placements include: Cornell University, Purdue University, Texas A&M, University of Notre Dame, University of Cincinnati, Erasmas University, Northeastern University, and IBM.
The department has been ranked No. 1 for the third time as a leader in supply chain education according to a survey conducted by Gartner, Inc.
Learn more about the Smeal Supply Chain and Information Systems Department.
For more information on the Smeal Ph.D. Emphasis in Supply Chain and Information Systems, contact:
Dan Guide
Professor of Supply Chain Management
Department of Supply Chain & Information Systems
Smeal College of Business
The Pennsylvania State University
480 Business Building
University Park, PA 16802
Phone: 814-865-6103
Email: drg16@psu.edu