Professional Selling
Interested in a marketing career working with people in a fast-paced environment solving unique problems companies and organizations face? Learn about opportunities in professional selling with classes and real-world projects to prep for internships and entry-level career opportunities.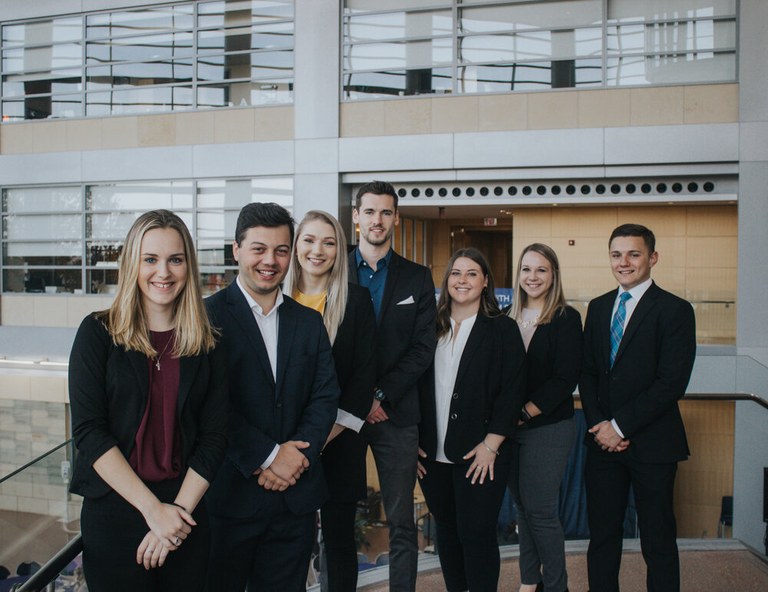 Professional Selling Opportunities in the Marketing Major
Gain a flexible foundation to hit the ground running and pursue your passions
Interested in a marketing career working with people in a fast-paced environment solving unique problems companies and organizations face? Marketing students at the Penn State Smeal College of Business will enhance their portfolios for career opportunities in professional sales management, consulting and business selling as a part of the Business Development and Sales specialty track in the marketing major..
Employment of advertising, promotion, and marketing managers is expected to grow significantly by 2026
Smeal marketing majors entering the workforce after school secure competitive starting salaries which are dependent on industry, location and company. Many alums become managers and executives later in their careers.  More on career options and salary statistics of marketing careers and Smeal marketing graduates
Smeal Marketing Alumni in Professional Selling
Some of our Marketing Alumni that built careers in Professional Selling are, but not limited to:
Sales consultant for media companies and digital media companies
Strategic planning in project management to consult companies on sales, advertising, and promotion
Client management sales roles solving business customer problems
Corporate ticket sales and sponsorship sales for sports teams and collegiate athletic departments
Developing business relationships and act as a liaison for your clients to the agency
Various sales consulting roles in industries with retail and shopper trends, fashion, fast-moving consumer goods, lifestyle brands, digital companies and technology
Marketing manager and senior management roles in the aforementioned roles
Core Courses in Professional Selling
MKTG 410 (3): Personal Selling Principles underlying the selling process and practical application of these principles to selling situations.
MKTG 428 (3): Advanced Sales Management Approaches to planning, organizing, staffing, training, directing, and controlling the sales force in support of marketing objectives.
Full Marketing Course List and Descriptions offered at the Smeal College of Business
Opportunities Outside the Classroom
Penn State American Marketing Association (PSAMA)

PSAMA earned the AMA International Chapter of the Year award in 2020-21
About PSAMA, including a Sales division
Marketing majors concentrating their studies in Professional Selling have opportunities to further their experience participating in PSAMA. Penn State American Marketing Association includes a Sales Division that aims to provide members with hands-on experience in the sports industry that will set them apart when looking for internships/jobs. The sales division is one of PSAMA's newer divisions, established in Fall of 2018. The sales division was created out of the executive board's and alumni member's recognition of the importance for students to understand sales and have knowledge surrounding the topic.