Recognition
Recognition in Sustainability
The Smeal Sustainability awards recognize extraordinary achievement and service in advancing Smeal's sustainability goals in teaching, research and outreach. 
For award guidelines, nomination process and selection timeline, please visit the following links:
Susman Sustainability Leadership Award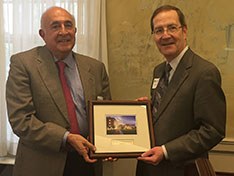 The annual Susman Sustainability Leadership Award recognizes exceptional leadership in the advancement of sustainable business strategy, management, and practice. Awardees can be internal or external to Smeal. 
The 2017 inaugural recipient of the award was presented to Gerry Susman, Klein Professor Emeritus of Management, director emeritus of the Center for Management of Technological and Organizational Change, and director emeritus of the Sustainability Council. 
"Gerry navigated our work from the early days of operational excellence to the current focus on strategy and innovation. We are shifting our focus to the business of sustainability by considering new and exciting approaches to business challenges that account for the social and environmental impact of decision making. This is possible because of the terrific foundation Gerry has created."
Click here to read more about the inaugural Susman Sustainability Leadership Award.
2019 Recipient of the Sustainability Faculty Award: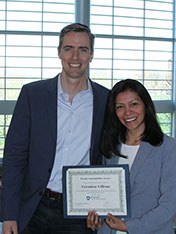 Veronica Villena, Assistant Professor Supply Chain & Information Systems
2019 Recipient of the Sustainability Staff Award: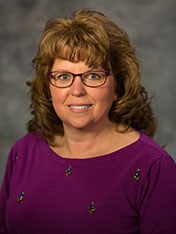 Teri Ault, Business Manager, Research, Instruction and Information Technology Group
2019 Recipient of the Graduate Student Sustainability Award: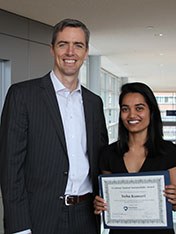 Neha Kumari
2019 Recipients of the Undergraduate Student Sustainability Award: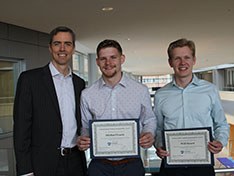 Will Swart and Michael Lewis
Past Recipients
Undergraduate Student
2019 - Will Swart and Michael Lewis
2018 - Matthew Park and Matthew Morgan
2017 - Alec Raymond
2016 – Dang Trinh
2015 – Ethan Espina
Graduate Student
2019 - Neha Kumari
2018 - Ryan Roach and Sophia Schuster
2015 – David DeFelice
Faculty
2019 - Veronica Villena
2018 - Suresh Muthulingam
2017 - Dan Guide and Terry Harrison
2016 - Karen Winterich
2015 - Ron Johnson
Staff
2019 - Teri Ault
2018 - Karen Serago
2017 – Robin Stevens
2016 – Christine Novinskie Olbrich
2015 – JungEn Choi