Students and Alumni
Information on the efforts of sustainability education at the Penn State Smeal College of Business.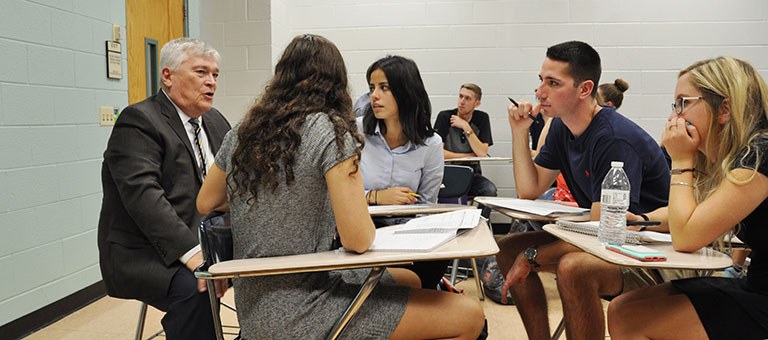 At the Penn State Smeal College of Business, sustainability is a topic woven into the curriculum across multiple academic departments and areas of study. As part of coursework and within student-led initiatives outside of the classroom, students and faculty identify sustainability-related opportunities and challenges, analyze them, and develop frameworks that provide solutions for moving forward.
"There is hardly a major company in the world that isn't seriously addressing the issue of sustainability. It is our vision that Smeal will be a top business school in this area, joining the University in making this a strategic priority."  - Terry Harrison, Member of the Smeal Sustainability Council, Professor of Supply Chain and Information Systems
Coursework
The environmental impact of conducting business in today's world is considered throughout the curriculum at Smeal. At the undergraduate and graduate levels, courses are designed to enhance awareness and appreciation of the benefits sustainability has to companies and society. Courses in finance, management, marketing, supply chain, and other disciplines feature sustainability components.
Student Organizations
Undergraduate and graduate student organizations also provide a way in which students can apply principles and knowledge on sustainability outside the classroom. Net Impact, a national nonprofit, has two chapters within Smeal at the undergraduate and MBA levels. Both groups are aligned with the organization's mission to improve the world through programs that educate, equip, and inspire members to make a positive environmental impact through business.
Professional Development for Individuals and Organizations
As concern for the environment has grown in recent decades, incorporating sustainability practices into core business strategy and operations, from supply chain to marketing to accounting, is no longer an option for companies — it's a necessity. Now more than ever, businesses must manage their environmental and social impact in order to drive profitability, reduce cost and risk, and build competitive advantage. You need the skills and knowledge to help your organization create transformative change and achieve long-term sustainability.
I am pleased to announce that the Graduate Certificate in Business Sustainability Strategy is now live on the Penn State World Campus website.This 13 week session will begin May 13, 2019.  Click this link for more information.
Penn State Executive Programs develops leaders across all levels of responsibility through award-winning executive education programs and customized learning solutions. Sustainability and corporate social responsibility is now a key ingredient for building great companies. Our focus is on strategic sustainability: a broad understanding of the costs, risks, opportunities and obligations of leadership and business growth.
Alumni Resources and Engagement
The Penn State community includes more than 700,000 alumni located in every corner of the world. Within that network, graduates of the Smeal College of Business number 95,000. There is power in numbers, and we hope you will find value in leveraging your Smeal connections.
Alumni with an interest in sustainability and social impact can receive coaching for impact careers, take classes, participate in alumni events, and join the Smeal Sustainability Alumni Network.