Sustainability at Smeal
Information on Sustainability at Smeal.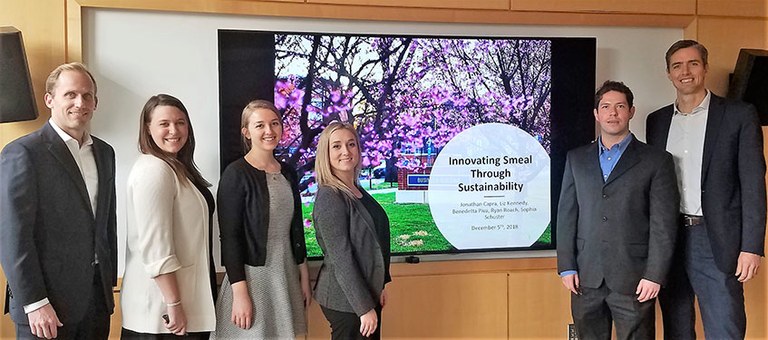 From left to right: Smeal MBA Students Ryan Roach, Sophia Schuster, Elizabeth Kennedy, Benedetta Piva and Jonathan Capra Calderon, and Erik Foley
We believe business and markets are the most powerful mechanism for positive social and environmental change.
We believe every business major and function has a unique and critical role to play in maximizing positive social impact. Sustainability is not a separate department; it is a strategy for creating long-term value for the business and society.
We invite you to join the many students, faculty, alumni, and business leaders working to transform business practice and education.
Engagement
Smeal's engagement with sustainability aligns with the college's vision to be one of the very best business schools in the world, producing leading-edge business research brought to life in active learning environments by an outstanding faculty, and preparing graduates for productive careers in business.
"Sustainability is a strategic priority for Smeal. We are on the leading edge of sustainability efforts, not just at Penn State, but for business schools around the world. A new center will help us realize our vision for sustainable business education undergraduates up through high-level executives of global corporations." 
- Charles Whiteman
John and Becky Surma Dean
Smeal College of Business