Getting Involved
From signing the Honor Code to attending special events, there are a number of ways for students to promote integrity and ethical behavior.
Integrity Advocates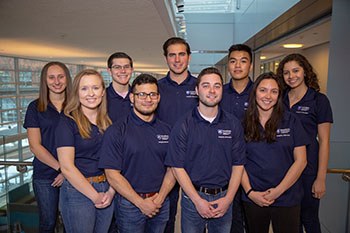 Smeal's Integrity Advocates create and support initiatives for their peers, which are designed to increase awareness of Smeal's commitment to Honor & Integrity and the importance of responsible business activity. Students selected to serve as Integrity Advocates are provided a unique opportunity to develop their own leadership skills, through such key activities as running the PSU 6 Business Ethics Case Competition and collaborating with the Chamber for Business and Industry - Centre County (CBICC) to recognize a local business with an Ethical Business Award. Meet the Integrity Advocates here.
Ethics Team
Smeal's Business Ethics Case Competition Team is comprised of a select number of undergraduate students that work together to develop their ethical decision making skills, and strategically incorporate ethics and social responsibility into solutions for current challenges in business. Students on this Team represent Smeal at a number of competitions, such as the Collegiate Ethics Case Competition at the University of AZ, the Templeton Business Ethics Case Competition at Stetson University, the Milgard Invitational Case Competition on Social Responsibility at the University of WA – Tacoma, and the International Business Ethics Case Competition. 
PRRIDE Challenge
Smeal undergraduate students will soon be able to apply to participate in the new PRRIDE Challenge, with the initial offering of the Challenge occurring in Fall 2019. This PRRIDE Challenge, named in recognition of the Penn State Values (Penn State Community, Respect, Responsibility, Integrity, Discovery, Excellence) encourages the development of ethical leadership skills. Students accepted into this program will be challenged to participate in a number of events, within Smeal and across Penn State, that bring our shared values to life. Students who successfully complete the PRRIDE Challenge will be formally recognized by Smeal, enabling these students to differentiate themselves from their peers by citing the accomplishment on resumés.