Smeal Ethical Leadership Challenge
Webpage with information about Smeal's Ethical Leadership Challenge.

Building ethical leadership skills through co-curricular engagement.
Challenge Overview
Who is eligible: All Smeal UP BA_PMAJ First Year Students and Sophomores.
What it is: A multi-level experience designed to help you develop and foster ethical leadership skills. The Challenge is intended to provide a framework for engagement opportunities available to Smeal students throughout their time at Penn State.
Why engage: The Challenge will help you leverage Smeal's culture of Honor and Integrity and demonstrate your personal commitment to ethical leadership development. Upon completion of the Challenge you will be able to highlight the experience on your resume, which can help distinguish you as a well-rounded future leader.
How it works: To complete the Challenge you will engage in a number of activities that will culminate in achieving five badges centered on key competencies of ethical leadership across shared Penn State values of Community, Responsibility, Respect, Integrity, Discovery, and Excellence.
Challenge Badges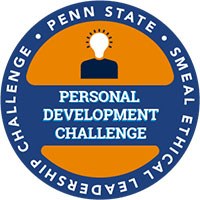 Personal and Professional Development
Ethical leaders begin as self-leaders. You earn this badge by engaging in activities that emphasize recognition of personal values, strengths, and weaknesses; development of goals; and utilization of resources that support your development into an ethical leader.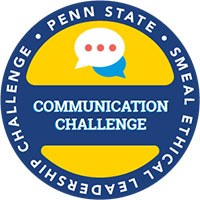 Communication
Ethical leaders communicate clearly, efficiently, and persuasively with others. You earn this badge by engaging in activities that explore various communication channels relied upon in professional environments, giving you the opportunity to practice voicing ethical commitments.
Collaboration
Ethical leaders work with others. You earn this badge by engaging in activities centered on developing and maintaining relationships and building effective groups and teams.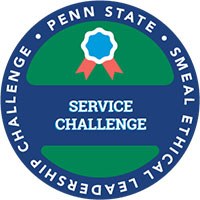 Service to Others
Ethical leaders build others up. You earn this badge by engaging in activities that strengthen connections with community members and provide personal experience of the value created by supporting others.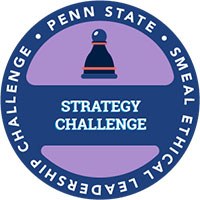 Strategic Planning
Ethical leaders understand how to effectively manage situations. You earn this badge by engaging in activities that encourage strategic and creative thought.
"Smeal Ethical Leadership Challenge has helped me grow personally and professionally with its customizable experience. Anyone can benefit from SELC as it helps you discover and utilize Penn State's resources at your own pace."

~Aubrey Miller, Sophomore, Management Major, Legal Environment of Business Minor
Will You Accept the Challenge?
After signing up, you will receive information about the next mandatory orientation session.
Already Accepted the Challenge?
If you have already signed up, click here to log into the Suitable platform.
Contact Us
If you have questions or would like more information, contact:

Alla Hatfield
Email: anh130@psu.edu
Phone: 814-863-1947

Shawn Dommer
Email: sad5861@psu.edu
Phone: 814-863-1947