Business with Integrity Case Competition
Learn about the Business with Integrity Case Competition and how to get involved.
The Tarriff Center for Business Ethics and Social Responsibility is excited to provide Penn State undergraduate students an amazing opportunity to analyze a contemporary issue in business and recommend a strategic plan that demonstrates business with integrity. In addition to being involved in a great educational experience to refine skills that are critical for ethical leadership in business, qualifying participants will have an opportunity to interact with executives representing a number of outstanding organizations.
The format for the Fall 2023 competition is planned to be in person. Students will have the opportunity to interact with business leaders and alumni – throughout the entire competition. Participants will also compete for prizes. This year's competition is sponsored by Kohl's, the Smeal College of Business, as well as Penn State's Engineering Leadership Development (ELD) program and the Rock Ethics Institute.
Rules
All PSU undergraduate students are invited to participate in the Business with Integrity Case Competition, in teams of three or four students. One condition is that every team must have at least one student that is affiliated with Smeal, as either completing a declared Smeal major or tracking as a Smeal major.
Each registered team will be required to:
collaboratively complete an analysis of the provided case study
recommend a strategic solution that demonstrates business with integrity
submit an executive summary of their analysis and recommendations
submit a digital presentation (e.g. PowerPoint) that would support a verbal presentation not exceeding 20 minutes
Provide link to a two-minute video, that demonstrates your ability to verbally pitch your idea
One member from each team must attend the case insights webinar
Team submissions will be evaluated by a committee. Nine teams will be selected from that qualifying round, and will be sent an invitation to participate in the live semifinal round of the competition. Teams participating in the semifinal and final rounds will be assigned into brackets, with each team delivering a verbal presentation of their analysis and recommendations to the judges, and answering questions raised by the panel of judges about their presentation or the case in general. One team from each of the three brackets will be invited to the finals to make their presentation and answer questions a second time in front of a new panel of judges.
Winning Teams
All teams participating in the semifinal and final rounds will receive small tokens or recognition for excellence, with top teams receiving the following awards:
1st place: Prize valued at $750 for each team member
2nd place: Prize valued at $500 for each team member
3rd place: Prize valued at $250 for each team member
Fall 2023: Important Dates
| | | | |
| --- | --- | --- | --- |
| Event | Date | Time | Format |
| Team registration deadline | September 28 | 8 a.m. | Online submission |
| Case released | September 28 | 12 p.m. | Email to participants |
| Case insights webinar | TBD | TBD | Zoom |
| Student submissions due | October 12 | 8 a.m. | Online submission |
| Semifinalists announced | October 19 | 5 p.m. | Email to participants |
| Semifinals | November 2 | 3:15 p.m. | In person |
| Finals | November 3 | 10:15 a.m. | In person |
Fall 2022 Competition Results
First Place: HMS Associates
Hannah Lee, Makayla Mann, and Sophia Darkes
Second Place: Hidden Gems
Colton Shiry, Grace Hubbard, Hunter Badamo, and Sean Gordon
Third Place: Kohca Kohla
Ansh Matta, Hayoung Lee, Rachel Chang, and Tanviin Saini
Fall 2021 Competition Results
First Place: MASK Consulting
Anna Shimek, Kyle Kroboth, Sarah Hunt, and Megan Martin
Second Place: YYDS
Jia Yu, JiaXi Yuan, Yi Zheng, and Jiahua Hong
Third Place: Finance Four
Jakob Iceland, Dongjin Kang, Aidan O'Sullivan, and Jaxon Zeli
Fall 2020 Competition Results (Held via Zoom)
First Place: Certified Fresh
Haskel Canagarajah, Sean Cullen, Erica Mi, and Chimwemwe Mitole
Second Place: GAME Theory
Gunnar Litz, Madeline McEachin, Allie Mollo, and Elizabeth Weiland
Third Place: Integrity ICONS
Alexandra Carmona, Saige Cestone, Abigail Falce, and Ryan Willson
Fall 2019 Competition Results and Finals Presentations
First Place: Lady Consultants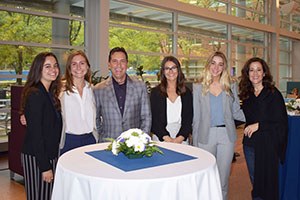 Team: Natasha Ferguson, Mary Brown, Emma Pirchalski, and Juliana Kaminski
Lady Consultants Finals Presentation
Second Place: RepuWatch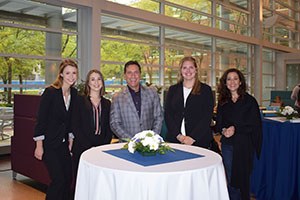 Team: Alysa Kuiken, Shaye Smartt, Kassandra Reagle, and Emma Rimbeck
Third Place: Ice Kohl'd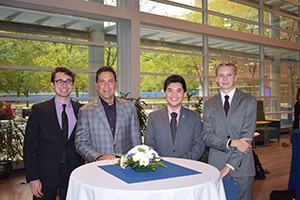 Team: Shane Cummings, Steven Zhang, Jack Vlazny, and Evan Zhang