Sydney Palmer
Biography of Sydney Palmer.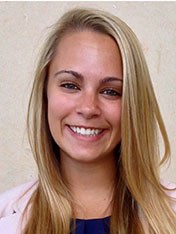 Sydney Palmer is a Manager in KPMG's Trade and Customs Practice based in Chicago, IL specializing in U.S. export control regulations. Since joining KPMG in 2019, she is part of a global team supporting commercial, technology and defense clients as they navigate the business impact of global export controls and sanctions. She began her career as a Trade Control Specialist for The Boeing Company based in St. Louis, MO, moving to the Bay Area in 2017 to lead the global trade function at a Boeing subsidiary. She became a Certified U.S. Export Compliance Officer® in June 2021 and moved to KPMG's Chicago office in early 2022.

Sydney is a proud Penn Stater and 2015 graduate with a B.S. in Supply Chain Management and minor in Business Law. She was active on campus as a member of the Sapphire Leadership Program, president of the Business and Society House, and member of Delta Gamma. Forever engaged in "extra-curriculars," she has since served on the board of the Northern California chapter of the Organization of Women in International Trade (OWIT) and as Advisory Team Chairman for the Delta Gamma chapter at San Jose State University. She's also an aspiring wine scholar and took classes at the Napa Valley Wine Academy in her spare time.