Patrick Dugan
Biography of Pat Dugan.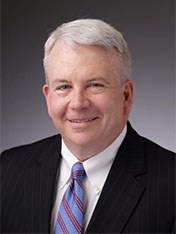 Recently retired from Westinghouse Air Brake Technologies Corporation (NYSE: WAB), Patrick Dugan, as Chief Financial Officer (CFO) and Executive Vice President, was responsible for all aspects of Investor Relations, Accounting, Tax, and Finance, and Information Technology. Dugan joined Wabtec in 2003 and has been a key member of the management team focused on delivering growth through new product development, international expansion, and acquisitions.   As CFO, Wabtec has grown from ~$2.5B in revenues to roughly ~$8.5B in revenues in 2021, driven largely by the strategic acquisitions of Faiveley Transport and GE Transportation.  During those critical combinations, Dugan was instrumental in executing the strategy and business structure, debt and equity financing, as well as integration of these investments.  Prior to this role, he was Wabtec's Corporate Controller and Vice President of Finance.
Before joining the company, Dugan was Vice President and CFO at CWI International, Inc.  He helped transform a local chemical operation into a global supplier of advanced oilfield technologies through M&A, product development, and international expansion.  He also helped guide the start-up to acquisition by Weatherford International. Dugan began his career with PWC providing business assurance and advisory services, serving middle-market growth companies focused on transformational transactions including M&A, recapitalizations, and initial public offerings.
He holds an MBA from the Joseph M. Katz Graduate School of Business at the University of Pittsburgh, a Bachelor of Science in Accounting from The Pennsylvania State University, and is a Certified Public Accountant. Pat is active in the community through board positions with the United Way of Southwestern Pennsylvania and The Pittsburgh Promise.   As an undergraduate student, he served an active leadership role as the Overall Chairman of the Penn State Dance Marathon.