Agenda
The agenda for the Penn State Smeal College of Business Professional Graduate Programs LION Weekend.
Attention: We regret to announce that this event has been cancelled.  
Please note that schedule adjustments, including cancellation, may occur based on changing conditions related to the pandemic and university/state regulations.
All events are optional; please register for those you wish to attend.
Thursday, September 22, 2022
Evening Social
Come raise a glass and enjoy the evening with your classmates, colleagues, and friends.
Time: 7pm ET
Location: Doggie's Pub at 108 S Pugh St., (814) 230-2200.
Look for the blue and white balloons! 
Not officially organized by the Professional Graduate Programs, this event is on your own.
Cost: None for the event, attendees purchase their own drinks and food on site. Attendees must be over the age of 21.
Friday, September 23, 2022
Leadership Immersion Experience at Stone Valley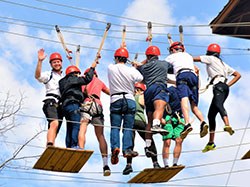 Experience a unique leadership immersion with students from all of Smeal's graduate programs and alumni. Visit the immersion's main page for more information.
Time: 8am, ET, bus departs from the Business Building
          9am-2pm, ET, Team development activity
          3pm, ET (approximate), bus returns to the Business Building
Location:  Stone Valley Recreation Area and Vertical Adventures.
Cost: $70 per student
Registration Required: Complete the registration form here.  After you have registered, please complete and sign the adventure waiver.
The Business Edge
Join our contemporary topic sessions delivered by expert faculty as part of our lifelong learning initiative.  The sessions will deliver cutting edge updates to help you become a better business partner.
A continental breakfast (8:15 am) and lunch (12-12:45 pm) will be provided to those attending the Business Edge sessions. Sessions and meals will be held in room 120 Business Building. 
Putting Analytics to Work: Applying Analytical Techniques to Today's Tough Supply Chain Problems 
Time: 9-10:15am, ET
Faculty: Dr. Christopher Solo, Clinical Professor of Supply Chain and Analytics
This presentation will highlight some recent advances in the application of analytics to today's challenging supply chain problems.
Examples of Marketing Analytics with Traditional and Modern Tools
Time: 10:30-11:45am, ET
Faculty: Dr. Andrew Petersen, Associate Professor in Marketing
Effectively utilizing data to develop and deploy marketing strategies is key indicator of firm performance. However, there is still a big skill gap in the marketplace of marketing managers who know how to utilize, analyze, and make sense of the data to make better marketing decisions. One challenge many marketers face is in knowing what data is available and what tools can be utilized to analyze and generate insights from that data. In this session, I will discuss and show examples of two approaches to a common marketing research problem: understanding the voice of the customer.  One method will focus on a more traditional method of designing, implementing, and analyzing a marketing survey. The other method will focus on a more modern method of utilizing machine learning and conducting text analysis on product review data.
Leading with Impact and Purpose
Time: 1-2:15pm, ET
Faculty: Dr. Al Vicere, Teaching Professor, Professor of Management and Organization
Leaders today are faced with a daunting challenge: maintaining business performance while at the same time evolving their organizations to accommodate the demands of a changing workforce and workplace. This interactive workshop will help you to assess your personal readiness--and that of your organization--to take advantage of the opportunities presented in today's unprecedented environment of change and innovation. Drawing on the latest thinking around leadership, this session will engage you in a thoughtful examination of business trends, your organization's readiness to deal with them, and the leadership approaches you can use to take advantage of the opportunities and challenges they present.
Entrepreneurship: Trends and Opportunities
Time: 2:30-3:45pm, ET
Faculty: Dr. Jeanette Miller, Clinical Professor of Entrepreneurship
Entrepreneurship is more approachable than you may think! This learning session will cover trends in entrepreneurship to evaluate getting involved as an investor, partner or to finally start that side hustle. Topics will include opportunities for funding, assessment, success stories and cautionary tales. Focus will be on providing tools and resources for those attending.
PGP Alumni Open House
This is a casual opportunity for alumni to connect with each other in the Business Building. Smeal staff who represent Alumni Relations and Alumni Career Services look forward to learning more about our graduates, and sharing various ways to become engaged with the college through unique opportunities and benefits. A tour of the Business Building will also be provided for those who are interested. Please feel free to stop in as your schedule allows during the course of the hour!
Time: 4-5pm, ET
Location: 209 Business Building
Saturday, September 24, 2022
Dean's Tailgate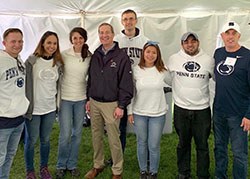 Join Dean Whiteman at a special tailgate and get ready for a great kick-off to the Penn State vs. Central Michigan football game. Families are welcome!
Time: TBD (before kickoff)
Location: Business Building Meadow, along Park Ave.
Registration: Required.  Please register here.
Cost: Sponsored by the Dean, no cost to registered participants.
Tailgate registration does NOT include tickets to the Penn State vs Central Michigan game. Game tickets should be purchased online. See Saturday's events page.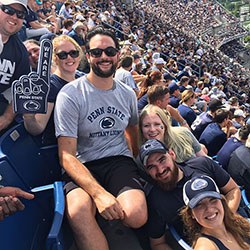 Penn State versus Central Michigan
Watch the Nittany Lions take on Central Michigan at the game after the tailgate. Attendees must purchase tickets and game-related activities independently.
Time: TBD
Location: Beaver Stadium
Tickets: Purchase tickets here.
Sunday, September 25, 2022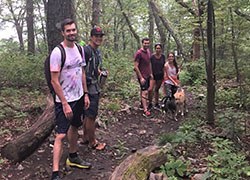 Mount Nittany Hike
Bring water and sturdy shoes for this scenic hike up Mount Nittany. This popular hike is a Centre County staple and offers stunning views of the iconic mountain and the surrounding Penn State countryside! The trail is of moderate intensity and should take about two hours to complete.
Time: 10am, ET
Location: Meet at the Mount Nittany trailhead parking lot. Visit the Hike Mount Nittany website for details.
Not officially organized by the Professional Graduate Programs, this event is on your own.
Cost: None