Sylvie Thompson, NTT Data Consulting
Profile page of CSCR Advisory Board member Sylvie Thompson, NTT Data Consulting.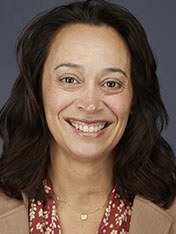 Consulting Vice President, Supply Chain Transformation Practice Leader
NTT DATA Consulting

CSCR®️ Corporate Sponsor since 2021
Sylvie Thompson leads the Supply Chain Transformation practice within NTT DATA Consulting. A passionate supply chain leader, Sylvie is a speaker and author of numerous studies and papers on supply chain and logistics. Her specialty is digital transformation as it ripples through the supply chain including network design, distribution, fulfillment, last mile delivery and reverse logistics within various direct-to-consumer supply chains. She is also the lead coordinator and one of the writers of The Annual Third-Party Logistics Study.
Prior to joining NTT DATA, she was the Supply Chain Practice Leader at Infosys Consulting. Sylvie is known for her ability to build relationships with clients and partners and transform internal operations, significantly improving market reach and profitability. She is a results-driven and innovative leader who effectively balances competing priorities to solve complex business problems and lead teams through change. Her expertise in supply chain and as a senior leader positions her to rapidly assess diverse challenges, set goals, develop action plans, and deliver.
Sylvie has a mixture of management consulting and start-up experience. Her experience with start-ups has demonstrated to her that leaders must question the status quo to deliver continuous excellence. She is a believer in hands-on experimentation to deliver maximum results and a champion of Design Sprints (Google Ventures) to rapidly test new ideas. Sylvie has developed and implemented numerous transformation initiatives for her clients and has extensive experience working with leading retailers and consumer brand owners.
She holds an MBA from the Richard Ivey School of Business at the University of Western Ontario. She is originally from Toronto, Ontario and now lives in Reston, Virginia with her husband just outside Washington, DC. Sylvie loves to travel, with only two continents left to visit (South America and Antarctica) and is an F1 Fan.