Michael A. del Rosario, Walmart
Profile of CSCR Advisory Board Member, Michael A. del Rosario of Walmart.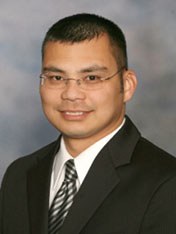 Michael A. del Rosario
Regional Transportation Manager

CSCR Corporate Sponsor since 2015

Michael A. del Rosario was born in Manila, Philippines, and immigrated to the United States with his family at the age of eight.  He attended the Pennsylvania State University under an Army ROTC scholarship and earned a B.A. from the Bellisario College of Communications and a minor in military studies.  He was selected for and completed the U.S. Army Airborne School, received his commission as a Second Lieutenant in 2000, and completed his training with Distinguished Military Graduate honors.
After receiving his commission as an Armor Officer and completing his Officer Basic Course in Ft. Knox, Kentucky, del Rosario was stationed in Vilseck, Germany and served with the 1st INF Div as a tank platoon leader, assisting his command in achieving numerous awards and earning Top Tank Platoon honors.  He was later selected to lead the Battalion's Support Platoon, responsible for providing ammunition, food, fuel, medical and other supplies to any area of operation. After being promoted to First Lieutenant, del Rosario was assigned to the Division's Headquarters Company (Wurzburg, Germany) to serve as the Company Executive Officer.  In 2003 he attended the Supply, Services and Materiel Officer course and was named to the Commandant's List.  He was promoted to the rank of Captain and assigned to Fort Lee, Virginia, where he served as a primary staff officer at the brigade level. As the Brigade S-1 (Adjutant) del Rosario oversaw all personnel actions (personnel assignments, promotions, awards, pay, talent development, and retention) for over 1,500 soldiers.
In November 2004 del Rosario joined the Logistics Division of Walmart Stores, Inc., as an operations manager for the Walmart Private Fleet. He began his corporate career in Tobyhanna, Pennsylvania, and was selected to serve as the remix coordinator for the Northeast Region. In 2006 he was promoted to the Transportation General Manager position to conduct a start-up of a new transportation office in a Grocery Distribution Center in Pottsville, Pennsylvania, and expanded on the strategy in 2010 in Bedford, Pennsylvania. In 2013 del Rosario relocated to Woodland, Pennsylvania, to lead a large-scale transportation office that was awarded Safety Office of the Year in 2016 and the Helen R. Walton Excellence in Community Leadership Award in 2017. 
During his career, del Rosario has been selected to participate in several projects in the Walmart Private Fleet and has attended the Logistics Division's Senior Leadership School and E3 Program (Exposure, Enrichment, and Education). He currently serves as an advisory board member for Operation Homefront and the Walmart Supply Chain People of Color Steering Committee. He also previously served on the Walmart Foundation's State Giving Advisory Council in Pennsylvania.
Along with his wife of seventeen years, Jodi, daughter, Zara, and son, Zac, del Rosario resides in Jersey Shore, Pennsylvania.