Keynote Speakers
Powerful Women Keynote Speakers
2023
Rachel Pell
Vice President for Strategic Communications, Pennsylvania State University
Vice President for Strategic Communications Rachel Pell—a senior-level public relations professional with more than sixteen years of experience in healthcare marketing prior to her transition to higher education—leads the division's public relations and marketing units, providing strategy and direction for internal and external communications that amplify and support presidential priorities and key University and Penn State Board of Trustees initiatives.
Rachel focuses significantly on creative storytelling and partnerships across paid, owned, shared, and earned media to help drive awareness and audience engagement among Penn Staters.
Since joining Penn State in 2016, she has launched a holistic media strategy and program focused on driving reputation and increasing visibility for the impactful, global-reaching research happening across the University's twenty-four campus locations. She established Strategic Communications' first proactive media team and expert database and combined media and science-writing expertise within the unit to increase engagement with top-tier local, regional, national, and international news outlets.
In 2021, Rachel's team launched a new, best-in-class Penn State News website—which serves as the premier storytelling platform and official source of information about the University for students, faculty, staff, alumni, and community members—and accompanying analytics toolkit to drive long-term content strategy.
Under Rachel's management, the University has codified a top-notch issues and crisis communications program that is agile and responsive to the ever-changing higher education landscape and range of potential issues facing an institution of Penn State's scale and scope.
As a vital member of the University's COVID-19 management team throughout the pandemic, Rachel and the team developed and implemented many critical initiatives. One proactive step was the development of the "Mask Up or Pack Up" campaign that united University and local community members in a singular call to action. The research-based community health campaign received top national and global PR awards, as well as recognition from the Centers for Disease Control and Prevention as a national model.
Before joining the Office of Strategic Communications, Rachel was a senior vice president and group manager at Ketchum, a leading PR agency in New York City, and she previously worked at Weber Shandwick, also in New York City. She led the development of strategic professional and consumer-focused programs for leading global pharmaceutical corporations and advocacy organizations, such as Pfizer, Takeda, Boehringer Ingelheim, Leukemia & Lymphoma Society, and Parkinson's Unity Walk.
Rachel's honors include being named a recipient of Ketchum's David Drobis Client Excellence Award, one of Ketchum's highest honors that recognizes individuals globally for superior client service. She holds a bachelor of science degree in marketing from Penn State and attended the Center for European Studies at Maastricht University in the Netherlands.
Lindsay Peoples
Editor-in-Chief, The Cut
Former Editor-in-Chief, Teen Vogue
One of the nation's rare Black female editors-in-chief and a 2020 Forbes 30 under 30 honoree, The Cut's Lindsay Peoples shares an invaluable view of women's empowerment, marketing to GenZ, elevating your brand in the era of Black Lives Matter, hiring for diversity, and running multi-million-dollar brands with an editorial mission to view everything through the lens of inclusivity. Peoples returned to The Cut, New York Magazine's style and culture site in 2021, after two years as editor-in-chief at Teen Vogue. At Teen Vogue, she was the youngest editor-in-chief of a Condé Nast publication and one of the rare Black journalists in leadership roles at the company's magazines. While there, she co-founded the Black in Fashion Council, which has enlisted the support of the Human Rights Campaign to provide benchmarking around corporate policies and practices that are pertinent to the inclusivity of Black employees. Under Peoples Wagner's leadership, the Council established an Equality Index Score for companies across fashion and beauty brands and the media that covers them. Before Teen Vogue, Peoples spent five years as an editor at both The Cut and New York Magazine, roles she assumed following her time as the fashion market reporter at Style.com. During this first tenure at The Cut, she won the 2017 ASME Next award, which honors outstanding achievement by magazine journalists under the age of 30. She also wrote the criticallyacclaimed "Everywhere and Nowhere: What it's really like to be Black and work in fashion." The piece featured more than 100 people of color's insights and perspectives on diversity in fashion. In 2019, she was celebrated among Business of Fashion's BoF 500. She was also included on the 2020 "Root 100" list of the most influential African Americans. Earlier in her career, Peoples spent two years as a fashion market assistant at Teen Vogue, where she returned after a stint at O, The Oprah Magazine. She began her career in fashion at Teen Vogue as an assistant working in the fashion closet under the founding editor-inchief, Amy Astley. Peoples, who hails from Wisconsin, graduated from Buena Vista University with a bachelor's degree in art and journalism. Sharing her own personal and professional experiences, branding savvy and leadership expertise, Peoples Wagner provides honest, authentic advice that not only inspires, but gives audiences the insights and tools to take action.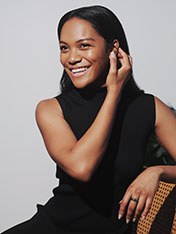 Asia Grant
Asia Grant '17 BUS with Honors
Co-founder & creative director, Redoux, New York, NY.
With a love for design, Grant began her professional career as a UX Researcher at IBM in 2017. She started her company in July 2019 with her co-founder Alejandro Cuevas (18' IST) as a part time endeavor. The company's mission is to recognize our collective experiences through scented products. In 2020, her company was chosen as one of 16 businesses out of nearly 10,000 applicants for the highly competitive Glossier Grant Initiative for Black-Owned Businesses. With the success and backing with the award, she left her corporate job in October 2020 to focus on building the business full time.
Driven by her interest in the swiftly changing beauty market and passion for an intellectual and scientific approach to scent and skincare, Grant has grown Redoux into a well-known brand featured by The New York Times, Architectural Digest, Vogue, W Magazine, ITG, and more. Asia has been featured in USA Today, GOOP, Entrepreneur.com, and was selected by WWD as one of Six Young Founders Forging the Future of Beauty. Her products have won the Architectural Digest's Cleverest Award in 2021 and 2022.
In 2018, Grant was elected as the youngest board member of Scholar Alumni Society Board for the Schreyer Honors College at Penn State University, and subsequently was voted to be the organization's chair of Alumni Engagement then President in 2019 and 2020 respectively. In addition, Grant was elected to the Penn State Alumni Association Board and served on the Executive Committee as the University's College Society Representative alongside the CEO and President of the organization.