Tony Thambinayagam ('09 Supply Chain Management)
2021 Alumni Award Recipient: Tony Thambinayagam, '09 Supply Chain Management, Outstanding Young Professional Award.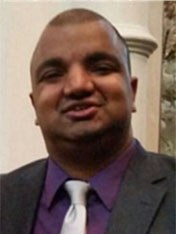 2021 Outstanding Young Professional Award
Tony Thambinayagam is a Senior Demand Planning Manager for the Campbell Soup Company. He is a results-driven people leader with 11 years of supply chain experience in fast-moving consumer goods.
Previously, Thambinayagam was a Supply Planning Manager for the Skin Cleansing category at Unilever North America in Englewood Cliffs, NJ.  He graduated from Penn State in 2009, and spent two years in Washington D.C. as a logistics consultant for IBM working on notable projects for the U.S. Census Bureau and Kraft.
Following IBM, Thambinayagam spent nine and a half years at Unilever in numerous roles including: logistics, supply & demand planning and customer service.  While working as a customer supply chain analyst for Unilever on the Target account team in Minneapolis, he completed his M.B.A. at the University of Minnesota.  Part of his M.B.A. included a two week study abroad immersion in the United Arab Emirates and Oman. Throughout his years at Unilever, he has actively led on-campus recruiting, speaking engagements and sponsoring classroom projects as a way of giving back to Smeal, connecting with students and helping them with their own careers.