Timmy Garde ('78 Accounting)
Timmy Garde 2023 Service to Smeal Award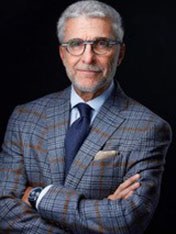 2023 Service to Smeal Award
A well-known trailblazer in the life sciences industry, Timmy Garde has built a legacy of lasting relationships, prominent brand launch success, unique partnerships, and significant business growth among Fortune-ranked pharmaceutical and healthcare leaders. The Chief Growth Officer at Ardelis Health effective March 2023 and prior to that Chief Innovation Leader for Life Science at LevLane Advertising, Timmy has elevated the company's reputation as an influencer and executive advisor for leading innovative companies such as BioReference (an OPKO Health company), Agile Therapeutics, and other brands.
By launching and driving annual Leaders in Life Sciences roundtable events, achieving front-page Wall Street Journal coverage for a diagnostic company, and creating Forging a Career in Branding events attended by over 1,800 students at Penn State's Smeal College of Business, Tim secured relationships with leaders from J&J, FDA, US Center for Medicare & Medicaid Services, Meta, Nestle, United Airlines, and other prominent organizations. His work also attracted Eagle Pharmaceuticals, Dash Pharmaceuticals, and others for the company's advisory services.
Tim's influence and affinity for the healthcare and medical equipment industry started as a marketing leader and Senior Vice President at Garde family-owned firm Sci-O-Tech, where he played a major role in the company's growth and acquisition by McKesson for $200M. His career includes Director of Program Development at Arbor, where he secured and oversaw marketing programs in pharmaceutical, home health care, long-term care, and managed care industries – leaving his stamp on the global firm with research for Bristol Myers Squibb.
Tim served as Senior Vice President of Client Services at Vox Medica and Executive Vice President for the Healthcare Marketing Communications Group at Star Group, where he spearheaded a brand-to-generic product launch among the largest in the industry. As a leadership team member, he advised Fortune 100 life science companies on positioning, growth, and brand launch strategies, and served on a task force at a publicly held pharmaceutical company to launch a $100M vertical. Tim's vision for digital healthcare achieved results for major brands through social media leverage and advances in digital technology, while generating $50M in capitalized billings. He concepted and orchestrated the Vox Medica and Star Group merger with Calcium in 2014, blending strategic and creative teams with scientific, digital, and executive talent.
Tim continues to advise key brands, source and connect industry leaders, and administer strategic investments.
He has been a dedicated volunteer to the Smeal College of Business for nearly two decades. He served on the Alumni Society Board for nine years and is now an active Hammond Society Member. Tim has a passion for helping students and has volunteered his time and expertise for a number of projects, including the relationship with Saxbys Experiential Learning Cafe and the annual branding panel for the PRIME student organization.