Patrick J. Kinney ('83 Business Logistics)
2022 Distinguished Achievement Award: Patrick J. Kinney '83 Business Logistics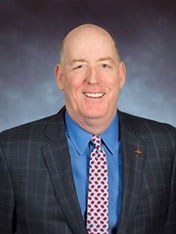 2022 Distinguished Achievement Award
Patrick Kinney devoted his entire 38-year career solely to The Travelers Insurance Company, making it his mission and passion to be the best he could be and give back when and where he could. He is now retired from his role with the company, and is a motivational speaker and professional coach. Kinney has been blessed with an amazing life and inspiring story. It's a story of perseverance, relentlessness and an unwavering commitment to success.
A true professional, Kinney held several different roles throughout his career, most recently as executive vice president of enterprise distribution management. His tenure and experience have provided him with a deep understanding of the insurance industry.
Kinney's commitment to business is matched only by his commitment to civic and community engagement. For ten years, he chaired the Community Connections Campaign (United Way) and led the charge to raise millions of dollars for local organizations. He also serves on the Board of Directors for the Travelers Championship, The Village for Families & Children. He is the Vice-Chairman of Saint Francis Hospital and Medical Care in Hartford, CT, and is Moderator of the Shelter Harbor Fire District.
Kinney is also passionate about helping increase educational opportunities for students, serving on the board of Hartford Youth Scholars. Additionally, he is on the executive committee of Gamma Iota Sigma, a college academic fraternity for students pursuing careers in insurance and risk management. He and his wife, Patricia, are very active in supporting HARC, which provides programs and services for individuals with intellectual disabilities.
Kinney holds a bachelor's degree in Business Logistics from Penn State and a master's degree in Business Administration from Rensselaer Polytechnic Institute.