Menassie M. Taddese ('97 MBA)
2022 Distinguished Achievement Award: Menassie M. Taddese '97 MBA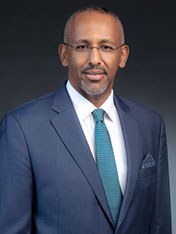 2022 Distinguished Achievement Award
Menassie M. Taddese is a seasoned veteran of the biopharmaceutical industry with longstanding experience in business transformation, partnership creation, and overall leadership. His success is attributable to his ability to identify, create and unlock value to boost performance across all levels.
Menassie is currently President of Emerging Markets at Viatris, a new kind of healthcare company created by the merger of Mylan and Upjohn, a legacy division of Pfizer. In this role, he oversees 125 markets over 200 brands and leads a team of 3,500 people.
Before this role, he was the Regional President of Emerging Markers for Pfizer Upjohn. Over his 23 years of experience, he has amassed a wealth of pharmaceutical industry experience covering general management, finance, treasury, and commercial leadership in multiple geographies across all continents. The breadth and depth of his experience include country, regional and global roles in global headquarters and managing multibillion-dollar businesses (both innovative and off-patent).
Menassie is a committed and inspiring leader and a mentor to many promising professionals. He has served several terms as the Global Chair for Pfizer's Global Blacks Council and as a member of Pfizer's Diversity Worldwide Leadership Committee.
Menassie holds a bachelor's degree in Economics and Accounting from Virginia Tech and a Finance MBA from Penn State's Smeal College of Business, where he graduated with distinction. Menassie lives in Dubai with his wife Yayine and two daughters, Mignote, Hiwote, and his son Ashenafi.