Keith D. Unton ('10 Supply Chain, '17 M.B.A.)
2022 Outstanding Young Professional Award: Keith D. Unton '10 Supply Chain, '17 M.B.A.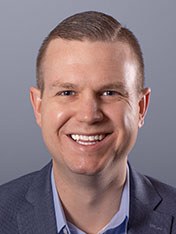 2022 Outstanding Young Professional Award
Keith Unton is a senior procurement manager at The Hershey Company. His team ensures Hershey's manufacturing plants have the corrugate cases, Reese's cup paper and the Hershey's Kisses plumes to deliver Moments of Goodness to consumers.
Unton has spent his nearly 12-year career in a variety of roles ranging from manufacturing leadership at the Twizzlers licorice plant in Lancaster, Pa., to leading the Walmart and Sam's Club supply chain team for Hershey in Bentonville, Arkansas.
Unton was a key member of Hershey's Nourishing Minds effort in Ghana and wrote the contract with a co-manufacturer helping to feed tens of thousands of local school children each year. Recognizing the need for a novelty holiday item, he developed Hershey's Peppermint Bark Bells with a co-manufacturer. The bells have been sold each holiday season for the last nine years.
Unton has distinguished himself at Hershey for his leadership capabilities and unwavering dedication to his team. He is highly collaborative with his colleagues and credits his talented teams as the root of his successes at Hershey.

Unton has a BS in Supply Chain Management and graduated valedictorian from Smeal's Executive MBA program. Keith was previously selected to ThomasNet & ISM's 30 Under 30 Supply Chain Rising Stars in 2017.