KC McClure ('87 Accounting)
2022 Distinguished Achievement Award: KC McClure '87 Accounting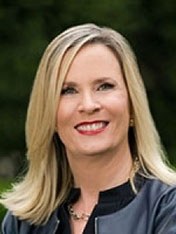 2022 Distinguished Achievement Award
KC McClure is Accenture's chief financial officer with responsibility for the company's corporate controllership, treasury, tax, investor relations, financial reporting and analysis, strategic planning and analysis, and corporate development functions. She is a member of Accenture's Global Management Committee. In 2020, McClure was recognized as the number one IT Services CFO in Institutional Investor's annual survey of the sector's equity analysts and institutional investors.
Prior to her appointment as CFO in January of 2019, McClure was senior managing director – Business and Commercial Finance and was responsible for all of Finance's work across Accenture's markets and services. In addition, she was responsible for the company's Commercial Management and Finance Strategy & Enablement functions. During this time she represented Finance on Accenture's Operations Council.
Throughout her more than 30-year career with Accenture, McClure has served in a number of Finance leadership roles. She was finance director for the Communications, Media & Technology and Health & Public Service groups where she was a member of the leadership teams and responsible for financial operations worldwide, including sales, contracting and delivery of client engagements.
McClure was head of Investor Relations from 2010 to 2016, and was responsible for cultivating and maintaining Accenture's strategic relationships and communications with shareholders and the broader investment community. During her tenure, Accenture's Investor Relations team was ranked number one in Institutional Investor's annual survey of the sector's equity analysts and institutional investors.
Earlier in her career, McClure also served in a variety of finance roles with Accenture's new business ventures, alliances and outsourcing teams. She joined the company in 1988 and was promoted to managing director in 2001.
A certified public accountant, McClure holds a bachelor's degree in Accounting and Business Administration from Penn State. She currently serves on both the Board of Visitors and the Accounting External Advisory Board for the Smeal College of Business.