Jordan J. Zezza ('18 MOL)
Jordan J. Zezza 2023 Outstanding Young Professional Award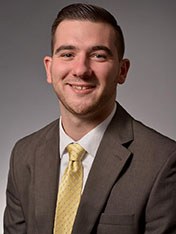 2023 Outstanding Young Professional Award
Jordan J. Zezza is a Senior Manager of Data Science Portfolio Management, Neuroscience at The Janssen Pharmaceutical Companies of Johnson & Johnson. In his role, Jordan manages a portfolio of 50+ research & development projects that aim to power discovery & accelerate clinical development with artificial intelligence, machine learning, real-world evidence & digital health. He also leads a team of consultants that provide project management support to drive the integration of data science along Janssen's Neuroscience pipeline.   
Before Janssen, Jordan spent about four years at Highmark Health, where he held various strategic & operational roles in functions such as hospital operations, data science, home & community care, and enterprise finance. Most notably, Jordan led & supported several major initiatives, including the transformation of Highmark's outpatient therapy segment, construction of the $275M Wexford Hospital, strategic partnership with Penn State Health, and creation of a professional development model that increased employee engagement scores by 14% in just one year.  
Jordan has been recognized by both organizations he's worked for, earning a Johnson & Johnson Inspire Award for his leadership in developing the Neuroscience Data Science Strategy and was nominated for a Highmark Health Core Behavior Award for his leadership in developing a vision for an enterprise-level Data Science Research entity.  
Through his experiences across payer, provider, pharmaceutical & technology sectors of healthcare, Jordan has developed a passion for healthcare innovation aimed at improving the lives of patients & families across the globe. He dedicates his work in neuroscience & healthcare to both of his grandmothers, who tragically passed away from Alzheimer's disease and heart complications in 2014, respectively.  
Jordan earned a Master of Professional Studies in Management & Organizational Leadership from Penn State University and a Bachelor of Science in Neuroscience from Susquehanna University. He also is a Certified Practitioner of Human-Centered Design & earned a Yellow Belt Certification in Lean Six Sigma.