Hal Wright ('58 Accounting)
2022 Service to Smeal Award: Hal Wright '58 Accounting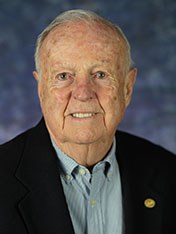 2022 Service to Smeal Award
Hal Wright is a retired self-employed Insurance Broker.
Wright has been a Smeal volunteer since 2005 and a Nittany Lion Fund investor from its first year of operation. He was a member of the Smeal Alumni Society Board for nine years and is now an active Hammond Society Member. Wright is also an Alumni Advisor to the Penn State Finance Society and volunteers for professional development events to benefit Smeal students.
He and his wife established the Hal and Helen Wright Smeal Scholarship Fund in 2006. The couple has Football and Men's Ice Hockey scholarships. Wright is a member of the Mount Nittany Society, the George Atherton Society, the Nittany Lion Club, and the Penn State's President's Club. Additionally, the Wrights are lifetime members of the Penn State Alumni Association and are Blue Band Boosters.
Wright received his M.B.A. from Drexel University in 1963 and a Chartered Life Underwriter designation from the American College in 1974.
The Wrights reside in State College. They have a son and a daughter, two grandchildren, two great-grandsons, and a great-granddaughter.