LTG (ret) Darrell K. Williams ('91g Business Administration)
LTG (ret) Darrell K. Williams 2023 Distinguished Achievement Award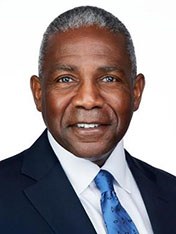 2023 Distinguished Achievement Award
Darrell K. Williams, a retired U.S. Army three-star General is the 13th President of Hampton University. He began his role on July 1, 2022, 39 years after graduating from this Historically Black University with a bachelor's degree.
President Williams comes to Hampton from Fortune 250 technology company Leidos, where he served as the global organization's United Kingdom vice president and managing director of the U.K. Ministry of Defence Logistics Commodities and Services Transformation (LCST) programme, providing global logistical support to U.K. military forces.
After 37 years of service, President Williams retired from the U.S. Army in 2020.  His last leadership position was as the 1st Black and 19th Director of the Department of Defense's Defense Logistics Agency (DLA).  He oversaw a global workforce of over 26,000 civilian and military professionals.
From 2015 to 2017, President Williams led the Army Combined Arms Support Command and the Fort Lee, Virginia, military installation.  In that role, he was responsible for Army Logistics University and the Professional Military Education and the training of thousands of Army logistics junior officer, warrant officer and non-commissioned officer students.  Additionally, he led the installation's strategic engagement with the Richmond, Petersburg, Hopewell, and Colonial Heights communities, and he assured the welfare and safety of the over 25,000 students, staff and faculty, families, and support organizations.
Early in his career he served as a leadership and logistics instructor at Fort Lee and was named as an Army instructor of the year, one of his many awards.
President Williams is a business leader and educator with non-profit development experience, whose focus for Hampton is creating an unparalleled higher education experience for students that includes excellent academics, support for strong physical, emotional, and mental health, and access to cutting-edge technology, research opportunities and innovative studies.
President Williams, a native of West Palm Beach, Florida, holds three graduate school degrees: a Master's Degree in Business Administration from Pennsylvania State University; a Master's Degree in Military Art and Science from the Army Combined and General Staff College, Fort Leavenworth, Kansas; and a Master's Degree in National Security Strategy (distinguished graduate) from the National War College, Fort McNair, Washington, D.C.