Crystal Roach ('18 EMBA)
Crystal Roach 2022 Smeal Diversity Leadership Award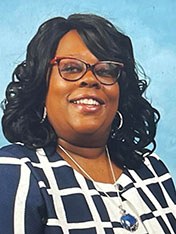 2022 Diversity Leadership Award
Crystal Roach is the Equal Employment Opportunity (EEO) Program Complaints Manager with the Naval Surface Warfare Center Philadelphia Division, (NSWCPD) at the Philadelphia Shipyard.
Roach works with all levels of the organization ensuring that they are knowledgeable regarding their EEO responsibilities and providing authoritative advice and direction to make certain that NSWCPD maintains a model EEO program, as well as assisting the command in ensuring that the workplace is free from harassment and discrimination. She also works closely with the NSWCPD Special Emphasis Program Manager and Employee Resource Groups to plan and deliver programs on diversity and inclusion.
Having served in the EEO, Diversity and Inclusion arena for nearly two decades, Roach values the importance of diversity, understanding that our full range of differences is what makes us strong, dynamic, intricate, and unique. Diversity is important because it's essential for success!

Roach received the Who's Who Among Students in American Universities & Colleges in 2016 and the Philadelphia Federal Executive Board's Adele Mayo EEO/Diversity Leadership Award in 2013.
Roach has a long-standing career in federal service, which includes the U.S. Office of Personnel Management (OPM), USDA Graduate School, Department of Treasury, U.S. Mint, and U.S. Department of Agriculture, Forest Service. She has served on the Philadelphia Federal Executive Board's Partners in Equality Council since 2002 and is currently serving as the Chair.
A Philadelphia native, Roach earned her bachelor's degree from Cheyney University of Pennsylvania, her Executive Master in Business Administration (EMBA) from Penn State University, and her Master in Public Administration from Indiana University.