Claudia A. Steeb ('81 Finance)
Claudia Steeb 2023 Distinguished Achievement Award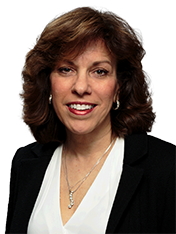 2023 Distinguished Achievement Award
Claudia A. Steeb is a Senior Managing Director in the Pittsburgh office of JLL with 40 years of experience in commercial real estate finance and investment sales advisory. She is primarily responsible for originating Debt and Equity transactions and working on significant Investment Sales Advisory transactions throughout the United States.  She focuses on retail, mixed-use, office and self-storage properties as well as portfolio transactions, with a specialization in malls, lifestyle centers and all types of retail properties throughout the entire United States. 
During her career with JLL (formerly HFF prior to acquisition by JLL), she has completed more than $15 billion in commercial real estate transactions. Claudia joined the firm in June 1995. Prior to JLL, she was an Originator with Lane, Noland Smith & Co. (now Grandbridge Mortgage), after working for five years at U.S. Steel Corporation in the Realty Development and Audit divisions.  
A graduate of the Pennsylvania State University with a degree in Finance from the Smeal College of Business, Ms. Steeb is currently the Vice-Chair of the Executive Board for the Borelli Institute of Real Estate Studies at Penn State. She has been a guest lecturer for the Real Estate Boot Camp and several senior and graduate level real estate classes at Penn State.  In addition to being a founding and current member of the Pittsburgh chapter of CREW, Ms. Steeb is also a member of ULI, ICSC CREFC, and NAIOP, as well as a board member for PEIDC in Pittsburgh.