Christine Ramsay ('05 Marketing)
Christine Ramsay 2023 Diversity Leadership Award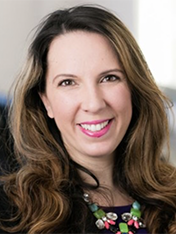 2023 Diversity Leadership Award
Christine Ramsay (She/Her/Hers) is a first-generation Armenian-American whose life purpose is to create a world where all people feel seen, heard, valued, celebrated, and loved so they continue to thrive and ignite their inner joy.   
She is a connector, storyteller, and cross-cultural inclusive leader whose superpower is empathy.   
She is the Chief Empowerment Officer and Founder of Ignite Inclusion, LLC, whose mission is to help organizations and individuals raise their own levels of consciousness to awaken their inner joy, promoting happiness and well-being.   
She is a Certified Happiness and Leadership Coach, Tedx and international motivational speaker, International Author of the Anthology "Your Life is Worth It", Certified Coach in Brain-Based Skills Neuroscience of Inclusion, Certified Coach for Social and Emotional Intelligence (EI), and a Certified Diversity Professional (CDP). 
She is a parent advocate for Gender inclusion, Autism & Neurodiversity, Well-being, and Happiness.  
She is also currently an intrapreneur as the Head of Diversity, Equity, and Inclusion for Intercept Pharmaceuticals.  She has over 19 years of corporate experience in various industries, such as pharmaceuticals, manufacturing, technology, and consumer products, leading organizational strategies to create human-centric, equitable, and inclusive cultures where all people feel a sense of belonging.