Arthur Miltenberger ('60 Business Administration)
2021 Alumni Award Recipient: Arthur Miltenberger, '60 Business Administration, Service to Smeal Award.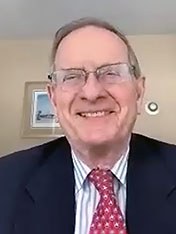 2021 Service to Smeal Award
Arthur Miltenberger served as an investment advisor to the Richard K. Mellon family of Pittsburgh for thirty-five years. During that time, he was chief investment officer for over twenty years, and served as executive vice president at the time of his retirement in 2003. From 1960 to 1964, Miltenberger served as an officer in the United States Navy and from 1966 to 1968 was a Staff Accountant with Price Waterhouse & Co. 
Miltenberger has served on numerous corporate, charitable, and civic boards, and was the recipient of the inaugural Hirtle, Callaghan & Company Award for Investment Leadership.
Miltenberger has been a strong supporter of the Smeal College of Business and Penn State for many decades. He was appointed as Chairman of the Board for the Nittany Lion Fund and served in that role for 12 years. He was also a member of the Penn State Investment Council that oversees the University's endowment. 
Miltenberger and his wife Marie reside in Ligonier, PA.