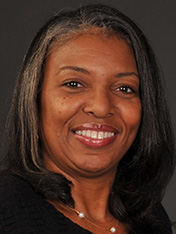 Deborah Wilkins, a Pennsylvania native and a Penn State graduate, is currently the Global Diversity and Inclusion Consultant-Americas for Shell Oil Company.  She is one of five global Diversity and Inclusion (D&I) consultants at Shell, providing D&I consulting services to senior Human Resources and line leaders in Canada, South America, and the United States.
Since joining Shell in 1997, she has been heavily involved with the Company's D&I initiatives, serving on or leading diversity action teams and diversity councils in three separate Shell businesses. She has developed D&I strategy and led regional and/or global D&I efforts for these businesses.  In addition to her consulting role, she also serves as the global liaison between the Global D&I team and Shell's 48 employee networks across the globe.
Deborah's work experience in HR includes many aspects of the field, including administration; training and development; career counseling; employee and industrial relations; recruitment and placement; and affirmative action/equal employment opportunity.  She's held management and staff  positions in unionized and union-free environments with several companies, including the Federal Reserve Bank of Cleveland, Air Products and Chemicals, Cargill, Solvay Polymers, and of course, Shell Oil Company.
Deborah holds a Bachelor of Science degree in Individual and Family Studies.  She obtained the Senior Professional in Human Resources (SPHR) certification in 1993 and attained Diversity Certification from the National Training Labs (NTL) Institute of Applied Behavioral Sciences in 2006.
Deborah's office is in Houston, Texas where she currently resides.   She can be reached at deborah.wilkins@shell.com