Eva Maria Steiner
Biography for Eva Maria Steiner, Associate Professor of Real Estate, King Family Early Career Professor.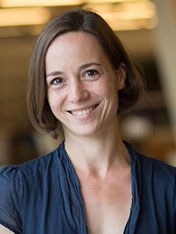 Associate Professor of Real Estate
King Family Early Career Professor
Dr. Eva Steiner is an associate professor of real estate within the Risk Management Department of Smeal Business College, where she teaches both undergraduate and graduate students. Dr. Steiner has worked for the university since the summer of 2020, and before then she was an assistant professor of real estate at Cornell from 2016 to 2020.
Dr. Steiner has recently been appointed as one of the editors of Real Estate Economics - the premier journal on real estate topics. "I am extremely happy that I can do this work on behalf of Smeal," Dr. Steiner said. While holding this position, she will be working with other editors and experts in the real estate field to approve and emend research by authors. The work Dr. Steiner will be editing will pertain to commercial real estate, which is her area of expertise.
Dr. Steiner recently spoke at a conference for the Hoyt Group, which brings together academics, policy-makers, and industry leaders to share knowledge, experience, and ideas regarding evolving research in the real estate industry. She spoke about her paper, "Did PPP Loans Distort Business Competition? Evidence from the Hotel Industry," in which she and Alexei Tchistyi analyzed the U.S. airport hotel industry and how the usage of PPP loans impacted the market during the Covid-19 pandemic.
During her career, Dr. Steiner has had several of her own works published and has received a great deal of positive feedback. Several of her works have had numerous citations, such as her paper on "The Role of Financial Leverage in the Performance of Private Equity Real Estate Funds," which is one of her most cited works. Dr. Steiner's paper on "The Rate of Return on Real Estate: Long-Run Micro-Level Evidence" was also cited in the Economist.
Through her work in the real estate industry and academic research, Dr. Steiner has acquired a great deal of experience that she brings to the classroom. Her advice to students is to take advantage of the industry speakers that the university brings to campus each semester. The presenters will teach students about the transition to the workforce and show them what it looks like to have a career in real estate. Dr. Steiner also wants students to be aware of how many career options there are available in real estate and how well Penn State's degree prepares them for these jobs. She believes that, through the degree, Real Estate Boot Camp, and other events, students can get a better idea of the opportunities that a career in real estate can offer.