Randi Camhi, Integrated MAcc Class of 2015
Randi Camhi's experience in the Integrated MAcc Program.
Experience in the Integrated MAcc Program and PwC's Project Belize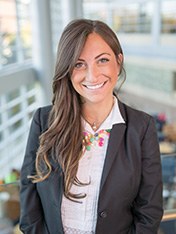 After my first year in the MAcc program at Pennsylvania State University, I was confident that this program was the perfect fit for me. As the Vice President of Beta Alpha Psi, a professional business fraternity for Accounting, Finance, and MIS students, my schedule was always busy with various corporate events, school work, and many social networking events within the MAcc program as well as the Big Four Accounting firms. The summer after my first year in the MAcc program, I interned with Tiffany & Company in their Accounting division. My internship with Tiffany & Company helped me gain invaluable knowledge about corporate culture, the importance of collaborative teamwork, and allowed me to apply my Accounting knowledge to real-world situations. Simultaneously, I participated in PricewaterhouseCoopers National Leadership program in Chicago, KPMG's National Leadership program in Hollywood, and Ernst & Young's National Leadership conference in Baltimore. At each leadership conference, Penn State students, specifically MAcc students, were noticeably one of the largest groups present. MAcc's relationship with the Big Four Accounting firms is undeniably one of the greatest attributes of the program.
During the summer of my senior year in the MAcc program, I interned with PricewaterhouseCooper's in their Audit practice in New York. As a Retail and Consumer Intern, I was able to apply my knowledge and skills to my client work. Additionally, during my internship, I participated in Project Belize. Project Belize is a program where PwC interns, associates, managers, and partners teach financial literacy to the Belize Community. I taught sixteen students, ages 9-13, the importance of saving money, the value of a dollar, and career planning. I helped the students plan and solve economic challenges that they all face in this developing country. I am so fortunate that I was able to participate in this program and truly feel that Project Belize has changed my life. I recently accepted a full time offer with PricewaterhouseCoopers in New York and will begin my career during Fall 2015.
The opportunities and advantages of being in the MAcc program are indescribable and I am truly thankful for the immense opportunities that I have had thus far. I am forever thankful to my professors, peers, and mentors for helping me succeed throughout my two and a half years in the MAcc program.