Events
Penn State Alumni Sustainability speaker series. World Environment Center.
Riding the Wave: Best Practices in Corporate Sustainability Strategy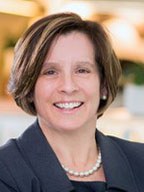 Lori Michelin (Penn State 1984) is the President and CEO of the World Environment Center (WEC) and the former Vice-President of Sustainability & EHS at the Colgate-Palmolive Company where she led the global sustainability program and renewal of their strategy. Michelin will speak about WECs work to advance sustainable development through business and her own experience being on the front lines working for change. Her talk will touch on the role global frameworks like the Sustainable Development Goals (SDGs) and the Global Reporting Initiative (GRI) play in strategy development and execution.
Guide for Watching the Video
This event aimed to provide perspective on how profit-making enterprises, either publicly traded corporations or private companies, are incorporating considerations of their broader environmental and social impacts into strategy, product development, supply chain, customer engagement and performance management.  When is such an incorporation of these concerns most effective?  How is "effectiveness" of such efforts measured?
Questions used by Erik Foley to guide the discussion (time stamps provided so you can quickly go to a section of your choosing)
You have had many meetings on campus with various experts, what stands out most for you? (3:45)
Lori, why don't we start with your background and what brought you to the World Environment Council? (6:59)
You spent many years working in industry, most recently as the VP of Sustainability at Colgate-Palmolive.  What does it mean for a company to look at sustainability strategically versus just as marketing or public relations? (25.00)
Can you share a favorite story from your work at C-P that reveals an important lesson in leadership for sustainability? (32.45)
Questions from the audience (42.30)
Sustainability and collaboration with competitors (42.36)
Often times, sustainability reduces costs but other times it does not, but it's the right thing to do. How do you look at that as a business person? (46.00)
How can you be successful in a role where you don't have the right technical background or experience? (50.50)
Can you talk about sustainable business from a legal perspective? Is there a special attorney or general counsel that helps with sustainability issues?Or is this outsourced? (52.46)
Do you find people within a non-profit that don't sufficiently understand business? (55.18)
How do you handle talking with so many different audiences from engineers to accountants to NGOs? (57.48)
What are the different sources of revenue for non-profits like the World Environment Center? (59.27)