COVID-19 Response
The Center for the Business of Sustainability's response to COVID-19, the novel coronavirus, in conversations, research, access to information, and supporting local businesses. This is where you will find webinars, videos, and links to relevant sources.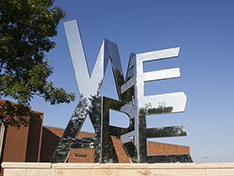 In a crisis, the matrix of relationships, understanding of complexity, and penchant for courageous innovation among skilled practitioners make sustainability a key asset. Therefore, during the COVID pandemic and recovery, the Center is serving our partners and community by providing a place to share solutions and engage research with practitioners while being mindful of the suffering and hardships that many are enduring and may continue to face.
The Center for the Business of Sustainability COVID-19 response has four parts:
Convening the Community
Gathering sustainable business leaders, scholars and innovators to explore the challenges and opportunities COVID-19 presents now and in the future.
Providing Access to Thought Leadership and Expert Information You Can Trust
Access to timely, science-based insights via interviews with experts from across Penn State. 
The Center's blog Triplebottomlion.com features two timely COVID-19 essays from our Director:
Engaging the Research Enterprise
Helping business scholars and leaders maximize our learning from the crisis and apply it in practical ways to improve practice in the future. Later this summer the Center will bring researchers together to talk about how the impact to businesses will guide and influence their research. Find out more about business in sustainability research here.
Serving Local Business and Economic Recovery
Helping local businesses survive the crisis and, for as many as possible, thrive through the recovery. The Center is building relationships with the Chamber of Business & Industry of Centre County (CBICC) and The Happy Valley Adventure Bureau.
Check back here for more opportunities to engage with the Center for the Business of Sustainability and its partners.