Research Director
An interview with Dan Cahoy, the Research Director
Sitting down with Dan Cahoy, Center Research Director and professor business law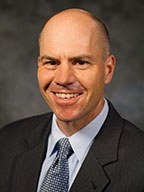 Tell me a little about your own research, particularly about intellectual property as a sustainability innovation incentive.
My own research in sustainability has gone down two paths.
My primary angle on the topic has concerned the legal and regulatory structure for incentives related to sustainability innovation. I very much believe that solutions to sustainability problems depend in part on new ideas and technology. Some of this innovation has yet to occur, and we want to ensure that our system supports it.  Through rights like patents and branded certifications, we give firms some confidence that they can obtain a return on their investment in sustainability.
An additional angle has been my work to better understand the role of social responsibility and human rights in corporate practices. Traditionally, rights have been the concern of governments. But there is a growing realization that business have an important role – even an obligation – to respect, protect and fulfil individual rights. And this is particularly important in vulnerable populations, who now have a greater seat at the table due to globalization.
In 2013, I had the opportunity to organize what I believe was the first-ever event to highlight the role of Law and the Transition to Business Sustainability. I was excited to see participation from our own students, researchers from across the country and our corporate partners.
We captured some of that dialog in a book of essays that we published in 2014.
I plan to work through our new center to organize more events that highlight Smeal's unique voice in sustainability and help others benefit from our research
What does it mean to you to be named the first research director of Smeal's Center for the Business of Sustainability?
I am very excited to be named the first research director of the Center for the Business of Sustainability because it signifies how serious the college is in making substantial contributions to this area. We've chosen to formalize a research director to ensure support, collaboration and communication outside of the college. We have an amazing group of researchers at Smeal, and they deserve an individual who can respond to their needs, disseminate their work, and connect them with the outside world.
Personally, I believe that I'm well positioned because, as a business law professor, I'm inherently cross-disciplinary. I teach students from across the college, and my research can plausibly connect to any of our business research areas. So, hopefully, I can appreciate the needs of our diverse faculty and ensure that all of our talents are fully supported.
What sort of research goals do you have for the center in the short-term and also the long-term?
In the short term, my research goals for the center concern communication, facilitating collaboration, and support. We can do a better job of describing what we do, to each other and the world, and identify connections within our world-class faculty. As we build our own capabilities, to the extent funding will enable new research, it is my job to ensure that it is available in the form of internal grants and other kinds of incentives and resources.
In the long term, I would like to increase our connections across the university (and the world) and identify new ways for our work to make an impact. That could be increased granting participation, entrepreneurial endeavors or consulting and business education.
How will the center's member model come into play?
First, they are absolutely essential in helping us create a workable model for our center so that it will remain viable and relevant in the future. Our members have collected decades of experience.
Second, our members are an absolutely essential source of information for our researches—and vice versa. They help us identify the real-world issues in the field. And because they are engaged in sustainability practices themselves, they can be an extremely important source of information on what works and what the best practices are in industry. We can work together with our industry partners to collaborate, disseminate, and implement our research.