Dr. Sesha Joi Moon
Bio for Dr. Sesha Joi Moon, director of diversity and inclusion in U.S. House of Representatives
Dr.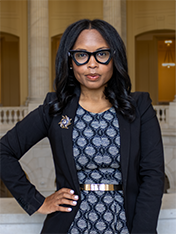 Joi Moon (she/her/hers) is the Director of the Office of Diversity and Inclusion with the U.S. House of Representatives. In this role, her coined philosophical stance is that "diversity is delegating differences and inclusivity is celebrating differences — but equity is elevating differences."
Her prior work experience includes positions at the U.S. Department of Commerce within the Office of the Secretary and U.S. Patent and Trademark Office – and most recently served as the Director of the Office of Diversity, Equity, and Inclusivity at the National Institute of Standards and Technology. During her tenure with the department, where she led the Race and Ethnicity Committee as part of the DOC Diversity, Equity, Inclusion, and Accessibility Council and received the Commerce Bronze Award for Superior Performance, Commerce Spirit Award, and Spotlight on Commerce for LGBTQI+ Pride Month.
She is a Senior Research Fellow with The Conference Board's Engagement Institute where she examined the intersection of diversity, equity, and inclusion with employee engagement as part of the Employee Engagement and Experience Council. She is also a Senior Fellow of the Excellence in Government Fellowship Program with the Partnership for Public Service.
In addition to completing executive education programs with the Harvard Business School and Cornell University, she holds a Ph.D. in Public Administration and Policy from Old Dominion University, where she examined the role of intersectionality on the talent mobility trends of women of color in the Federal Government. She also holds a M.S. from the L. Douglas Wilder School of Government and Public Affairs and B.A. in African American Studies from Virginia Commonwealth University.
She is a member of Delta Sigma Theta Sorority, Inc. and serves on the board of directors with the African American Federal Executive Association. She also serves on the Federal Chief Diversity Officers Steering Committee Council, Commonwealth of Virginia's Criminal Justice Services Board, and St. Jude 5K Walk|Run DC Executive Committee. Further, Dr. Moon serves as the Executive Director of The JXN Project, which is a grantee of the Mellon Foundation's "Monuments Project" and has been highlighted by PBS NewsHour, TIME, The Boston Globe, and 2021 Pulitzer Prize Winner Richmond Times-Dispatch. She hails from Richmond, Virginia and resides in Northern Virginia with her wife, Janice Pritchett, and cockapoo, Benji.