2019 Keynote Speakers
This is a listing of the leaders who will be serving as keynotes at this year's PWPW Conference.
Wanda Bryant Hope
Johnson & Johnson's Chief Diversity & Inclusion Officer
Wanda Bryant Hope, Johnson & Johnson's Chief Diversity & Inclusion Officer will join the Powerful Women Paving the Way Conference as the dinner keynote speaker on Thursday, April 11 at 6:00 PM.
Wanda Bryant Hope is an accomplished business executive with significant experience in general management, marketing, sales, commercial operations, and human resources. Wanda is currently the Chief Diversity and Inclusion Officer for Johnson & Johnson worldwide.  In this role, Wanda is responsible for globally advancing J&J's diversity and inclusion (D&I) outcomes, strengthening D&I capabilities, improving reputation, and driving innovation and growth for future success.
During her career, Wanda has held a variety of leadership positions including Vice President, Sales & Marketing; Vice President, Commercial Analytics, Development & Operations; and Vice President, Global Performance & Development.
Wanda has been recognized for her ability to exceed business results, deliver innovative solutions to complex challenges, lead global change, and develop people for optimal results.  Wanda has received several awards including the Healthcare Businesswomen's Association's Rising Star Award, the YWCA Tribute to Women in Industry Award, the Auburn Lives of Commitment Award and the National Sales Network Community Service award.  She also serves on the board of the State Theater (New Brunswick, NJ).
Wanda received her Bachelor of Science degree in Marketing from The Pennsylvania State University.  Wanda and her husband Bobby are the proud parents of their 11-year-old son, Tyler.
Maneet Chauhan
Executive Chef & Co-Owner, Chauhan Ale and Masala House
Chef Maneet Chauhan is the founding partner and president of Morph Hospitality Group in Nashville, Tennessee. She is a recipient of the 2012 James Beard Foundation Broadcast Media Award for her role as a permanent judge on Food Network's "Chopped," and sits on the panel of judges for Food Network's "Wedding Cake Championship". She has also written her own cookbook, Flavors of My World. A graduate of the Culinary Institute of America, Chef Chauhan worked in some of the finest hotels in India before the start of her professional career in the States.
Heavily lauded by print and broadcast media in the United States and abroad, Chef Chauhan has been featured in publications such as Bon Appétit, Food & Wine, The Local Palate, Wine Enthusiast, USA Today, Wall Street Journal, New York Times, New York Post, Times of India, The Telegraph and more. Her television appearances include "The View" (ABC), "CBS This Morning's The Dish" (CBS), "Designing Spaces" (Lifetime), "Iron Chef" and "Next Iron Chef" (Food Network).
Locally, Maneet was the 2016 Chair for March of Dimes Signature Chef Auction and selected to be featured as one of The Nashville Business Journal's 40 under 40 list, as well as Nashville Lifestyles Women in Business, which honored local women who are at the top of their industry.
She has worked as executive chef in successful ventures such as Vermilion in Chicago, which received accolades from Chicago magazine, Esquire, Time Out and Wine Enthusiast under her leadership.
Chauhan is the founding partner of Morph Hospitality Group in Nashville, Tennessee, which includes restaurants Chauhan Ale & Masala House, Tànsuǒ and The Mockingbird. She is also the co-owner of Mantra Artisan Ales in Franklin, Tennessee.
A native of India, Chef Chauhan chose Nashville for her first namesake restaurant after being contacted by developer Moni Advani to come down to Music City for a visit. It was during her first trip that she fell in love with the city and its people and decided to stay.
The Music City chef is a passionate advocate for the March of Dimes, and now lives in Franklin, Tenn., with her husband, Vivek and their daughter, Shagun and son, Karma.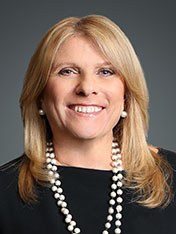 Lisa Lutoff-Perlo
President & CEO, Celebrity Cruises
The final keynote speaker is Lisa Lutoff-Perlo, President and CEO, Celebrity Cruises. Lisa will join us for the lunch keynote Friday, April 12 at 12:00 PM.
Lisa Lutoff-Perlo is a dynamic business leader whose vision and strategy has propelled Celebrity Cruises to become the performance leader in the Royal Caribbean Cruises Ltd. (RCL) portfolio. Her record-breaking results and industry firsts have earned her a reputation as a trailblazer in the complex maritime industry.
Appointed President and CEO in December 2014, Lutoff-Perlo leads the multi-billion-dollar brand with 13 ships sailing to 300+ global ports worldwide.
Lutoff-Perlo also leads Royal Caribbean Cruises' (RCL) Global Marine Organization, ensuring that the corporation's $30-billion fleet of 59 ships run safely, smoothly and efficiently across all RCL brands for 6 million guests per year. She is the first woman in the industry to do so.
Her vision to transform the industry by building game-changing ships continues with Celebrity Edge. To bring the vision to life, more than 500 designers were engaged to incorporate innovations of design and engineering that include many industry firsts.
Lisa's commitment to opening up the world through travel has brought unprecedented recognition and awards to Celebrity Cruises for its impact on the industry, the environment and the destinations sailed.
An avid champion for diversity and inclusion, education, STEM and an advocate for young women, Lutoff-Perlo has challenged the conversation around cultural and gender equality in the maritime industry. She has ignited many initiatives to raise the percentage of female officers on the bridge and landside, including hiring the first female American captain, the first female African bridge officer, and the first female Ecuadorian captain.
Lutoff-Perlo has a guiding value of giving back and helping others to succeed. She lends her leadership to a number of philanthropic, business and women's organizations as a board member and volunteer on a local, national and international level.
Under her leadership, Celebrity Cruises has partnered with a number of impactful organizations to make a difference in the world in the areas of girl's education (Malala Fund and Global Girls Alliance), sustainability and environment (World Wildlife Fund), STEM (Columbia University, FIU, NSU and University of Miami), gender equality, service excellence (Forbes Travel Guide), and expanding the footprint of women in the maritime industry.
To read about keynotes from previous years' events, please go to our Past Speakers page.