Management Event Spotlight
The Management and Organization Department's highlighted events attended by both students and faculty members.
National Football League Environmental Program (NFL Green) and Smeal Partnership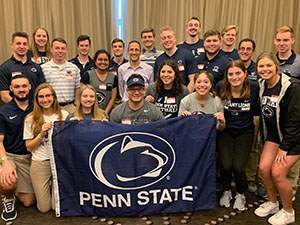 How Smeal Management & Organization is impacting the NFL Environmental Program with students participating at the recent NFL Draft. Making the NFL Draft fan experience greener. Leaders from Smeal's Management & Organization Department recently developed a partnership that allowed Smeal students to participate as sustainability ambassadors at the NFL Draft held April 25 – 27, 2019, in Nashville, Tennessee.  More than 30 students, faculty, and staff from Penn State spent four days working with the NFL Green Program to make the fan experience at the draft more environmentally sustainable. M&O faculty Ron Johnson and Smeal Sustainability Director Erik Foley are working with Penn State's Sustainability Institute and Recreation, Parks and Tourism (RPTM) leaders on this engaged learning opportunity.
Students learned how to manage a large-scale event and how to teach fans about sustainability. It was a great hands-on learning experience for our students.
Leadership Immersion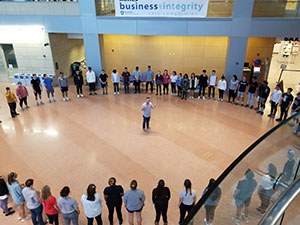 On Tuesday, September 24, 2019, nearly 70 students participated in a Leadership Immersion with Happy Valley Improv (happyvalleyimprov.com) in the Business Building Atrium and Lobby, hosted by the Management and Organization Department. Although the classroom provides a stimulating forum for discussing leadership issues, the Leadership Immersion provided students studying management with a hands-on opportunity to apply the fundamentals of leadership, helping them on their journey to become effective business and organizational leaders.
2019 Undergraduate Engagement Exhibition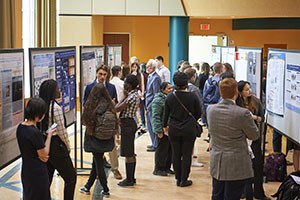 This event is held in April and is a celebration of undergraduate learning and engagement.  These students are from the class MGMT/IST/ENGR 426 Invention Commercialization and they are presenting their findings from a commercialization effort directed at a new invention or technology created by Penn State researchers.  Students were formed into interdisciplinary teams of business, IST, and engineering students and were challenged to work as a team of consultants to develop  a commercialization plan for a new invention and report their findings to the Office of Technology Management at Penn State and the inventor of the new invention.  Teams developed an understanding of the invention, assessed the intellectual property protection for the invention, and developed an understanding of potential markets and customers that the invention provides value to.