Management Student Spotlight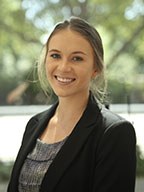 Elina Fantilli
My name is Elina Fantilli. I am majoring in Management Organizational Leadership and minoring in Legal Environment of Business (LEBUS).
During the summer of my sophomore year I was an intern at Stevens & Lee Law Firm. There I worked as a Records Department Clerk (intern). I was responsible for organizing and maintaining accuracy and privacy of confidential files. I also completed legal books in preparation for client meetings and presentations. On campus I am a Teaching Assistant for BA 342 and MGMT 301. I started this position this past September. I am also a Management Major Ambassador. This role allows me to represent and promote the management major to prospective students.
During the summer (2019), I was an intern at PepsiCo. There I worked as a Sales Management Intern. It was a fun and challenging environment. I worked closely with may sales professionals sharing strategies and data. We all worked closely together to execute sales plans and goals in specific geographic locations. I had to go out in my specified area and sell our product in a way that not only created profit, but also created a trusting relationship between the customer, PepsiCo and myself.
The management major at Smeal is something I will be forever thankful for. It has allowed me to become the best version of myself. Through this program I have developed leadership skills, organizational skills and confidence knowing that I can go out in the world and be an asset to my future employer and be able to make a difference in my community. Management professors taught me how to be an individual, but also a team player at the same time. They give you a taste of the challenges that the world has, but they also equip you with many tools to be able to succeed and overcome anything thrown your way. Everyone at Smeal is here to help you grow and develop into the next generation of leaders.
I am currently in the process of applying to graduate school after graduation. I have decided to apply to Penn State for a Master's in Corporate Finance.
Student Spotlight Archive