Management Faculty in the Spotlight
The Management and Organization Department's distinguished and highlighted faculty members.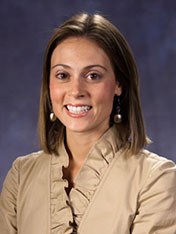 Jennifer Eury, Ph.D.
Recipient of the Rise Above Faculty Award, 2018
Jennifer Eury is a Clinical Assistant Professor of Management and Organization and an affiliate faculty member in the Rock Ethics Institute at Penn State. She is responsible for the development and teaching of the core management course in the Smeal College of Business Fundamentals Certificate program.  In addition to her involvement with the Certificate program, she is responsible for a combination of undergraduate and graduate teaching and service activities on behalf of the Management & Organization Department.  She teaches courses in management and organization, ethical leadership, and leadership and change in organizations. Dr. Eury is also the faculty advisor to the Professional Management Association student organization. During the 2018-2019 academic year, she is also serving as a Student Engagement Fellow in the Faculty Academy at Penn State.
In 2018, the Smeal College of Business recognized Professor Eury with the RISE Above Faculty Award. This award honors faculty members for their commitment to advancing Smeal's goals to promote integrity and ethical behavior. This commitment can be demonstrated by upholding integrity in the classroom, incorporating ethics into course activities, exploring ethical issues in the field, and proposing initiatives for implementation to promote integrity and ethical behavior in the department, college, and/or university.