CIENT Student Spotlight
A highlight of extraordinary students in the Smeal College of Business' CIENT Major.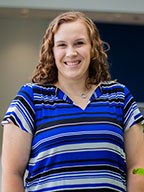 Mackenzie Anderson
Mackenzie Anderson is a senior at Penn State majoring in Corporate Innovation and Entrepreneurship (CIENT). Following graduation, she will work as a Human Capital Analyst for Deloitte Consulting in Boston. Previously, she has worked as a Human Capital Summer Scholar for Deloitte, a Finance Intern for Johnson & Johnson, and a Marketing and Communications Intern for Hope Loves Company. Through this wide array of experiences, she has found her passion for consulting and focused on the consulting track within the CIENT major.
Mackenzie is involved on campus through Women in Business, Smeal Ethics Case Competition Team, Lion Ambassadors, and CIENT Ambassadors. She previously served as the President of Women in Business and now serves on the Strategic Planning Committee in Lion Ambassadors, as well as a Co-Founder of CIENT Ambassadors. Additionally, she worked as a Teaching Assistant in Smeal for MGMT 425 and 427W. 
With a deep-rooted love for community service, Mackenzie has earned her Gold Award (equivalent to an Eagle Scout) and is an avid ALS advocate, having raised over $82,000 for influential non-profits. She was recently selected as a Forbes 30 Under 30 Scholar and attended Harvard Business School's pre-MBA program.